A radiant life of happiness and peace
It is with joy that I follow how the river from your Source grows stronger and stronger, and am forever grateful for having drunk from it. I wish you playful and beautiful currents ahead. - K.S. 1/9/16
Hatha Yoga and Therapeutic Yoga
Since 1991, Yoga La Source teaches classic hatha yoga for students to achieve optimal vitality, mental clarity, and a serene state of joy - a transformative state that comes as a direct result of the rich and beautiful teachings originating in India:
We also teach therapeutic yoga:
A Yoga School
Our center operates as a school. Students enroll for a term and continue in the same weekly course with the same style, the same teacher, and the same fellow students, so all learn and develop together. Students may start at any point during a term and assimilate smoothly as the class of each hatha yoga lineage maintains the same posture sequence and its variations week after week. While term registration forms the base of each course, we do allow single-class registration for those with irregular schedules.
Just to want to say I really enjoy my regular yoga classes here, Miguel is a great teacher, plus I've been to various workshops which I've enjoyed and benefited from. I also attended one of your own lower back classes when I had back issues (after assembling IKEA furniture) and it really helped. So a really big thanks Yoga la Source for all the great classes over the years! - V.B. 5-5-2019
Our Teachers
Our experienced teachers practiced yoga for many years before attending extensive teacher training. Most have compiled more than 500 hours of teacher trainings over several years. They continue to integrate the yogic teachings into their daily lives and participate in further education programs.
Thank you so much for the great class - it is a really nice and peaceful moment during a busy week. The teaching is great, exactly what I was looking for. It is helping me a lot to find a good balance and harmony every day... - J.D.
A Deeper Understanding
We enhance our students' understanding of yoga philosophy through free Sunday afternoon breathing, meditation & discussion sessions from time to time and offer weekend workshops with advanced international teachers who have a broad and deep knowledge of yoga.
I can really feel a change in me, I have a bigger and truer smile, somehow I feel more grounded and I can feel my world... I am. And yoga is really helping me on this journey. - A.S.
Pricing
We offer discounts for term registration:
A 60-minute course with 11 classes is 149 Euros (13.50 average*). The single-class rate is 16 Euros. Students save 2.50 a class and can cancel a class online to get a credit for another class.
A 90-minute course with 11 classes is 159 Euros (14.45 average*). The single-class rate is 18 Euros. Students save 3.55 a class and can get a credit for a canceled class.
* The term discount reduces with each passing week. By mid-term, there is no price advantage for term registration, but one's place is guaranteed.
If a course is full with term students, you may use our single-class registration system in that course as term students are incentivized with credits to cancel from week to week if they cannot attend.
Locations
We offer courses in the City Center, Strassen, Walferdange, Bereldange, the EIB, and the Court of Justice.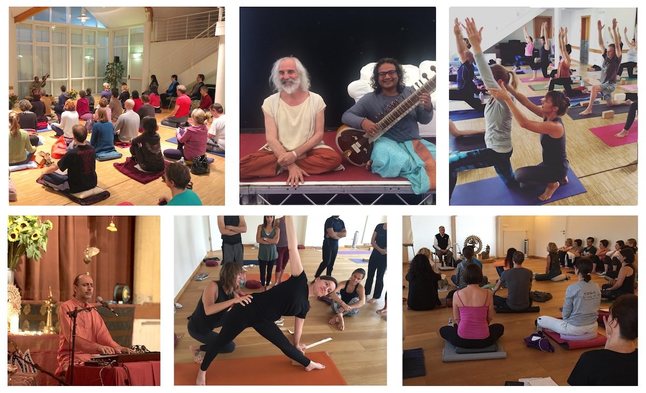 Note: All photos on our site are of our teachers, visiting teachers, students, and locations except for photos provided by visiting teachers for their workshops and some YouTube videos to depict the various hatha yoga styles.