Saturdays 11:00-12:30
Classes remaining: 0 Term Price: 0 € Single Class: 18 €
This course is taught in English.
Style: Ashtanga Beginner & Intermediate
Ashtanga vinyasa is a hatha yoga practice transmitted to Pattabhi Jois from the great yoga master Krishnamacharya. It is for students seeking an invigorating approach that purifies, stimulates and energizes. It consists of postures practiced in a fluid rhythm with a concentrated breath, steady gaze, and internal contractions to direct vital energy. Due to the dynamic nature of this practice, one feels completely energized and purified in each cell of the body and also in the mind. Go to the Ashtanga Beginner & Intermediate page.
Beginner & Intermediate:
A previous experience in yoga is recommended but beginners are welcome
Student follows the teacher's instruction but is also introduced to self-practice where the teacher spends time adjusting the student in the postures
The student progresses through the primary series of postures
See all levels
Teacher: Preslav Menakiev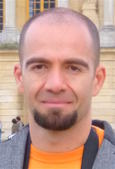 Preslav came to yoga in 2010 and was soon drawn to its philosophical and spiritual foundations. He explored Ashtanga, Sivananda, Power Vinyasa, and Bikram before taking one-week Jivamukti intensives in 2013 and 2014 where he learned more about asana as well as Yoga philosophy. He continued philosophy and Sanskrit with Manorama D'Alvia. Finally, he feels most connected to traditional Ashtanga Yoga which he finds truly inspiring with its calm power and grace. After maintaining a regular personal practice and attending Ashtanga courses and workshops with Denise Pesch since 2013, he completed in 2015 a 200-hour Ashtanga Vinyasa teacher training in Mysore, India, led by Jaiprakash, a direct disciple of B.N. Sundar Raj Iyengar from the Mysore Ashtanga tradition. He would like to share the practice with others in order to bring more equanimity and peace in the world. Go to Preslav's page.
Location: Strassen
With oak floors and a warm ambience with a view from the terrace of an occasional grazing sheep, our new Strassen center is a haven from the hustle and bustle of city life, located on route d'Arlon near rue de Reckenthal, just 200m from the A6/E25 autoroute. Go to the Strassen page.
What to bring
There are men and women's changing rooms at this location. Wear comfortable clothing to stretch in.
There are 10 yoga mats to borrow out of 24 possible students attending. We prioritise the mats for first-time students who don't have a mat. After the first class, please purchase and bring your own mat. We sell mats at good value.
Payment
At registration, we require term payment to guarantee your place. You may cancel after the first class according to our term cancellation policy.
List of Individual Classes

| Date | Info |
| --- | --- |
| April 14, 2018 | ✓ |
| April 21, 2018 | ✓ |
| April 28, 2018 | ✓ |
| May 05, 2018 | ✓ |
| May 12, 2018 | ✓ |
| May 19, 2018 | canceled for holiday! |
| May 26, 2018 | ✓ |
| June 02, 2018 | ✓ |
| June 09, 2018 | ✓ |
| June 16, 2018 | ✓ |
| June 23, 2018 | ✓ |
| June 30, 2018 | ✓ |
| July 07, 2018 | ✓ |
+ Term Registration
Term Registration
To register for this course please send us an email to info@yoga.lu