Preslav Menakiev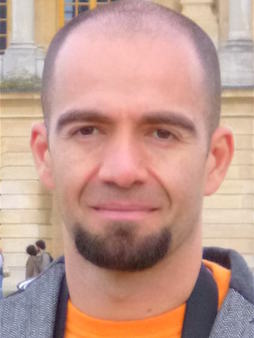 After moving to Luxembourg in 2010, I came to Yoga while looking for a practice that could help me find clarity and improve my health. I was soon drawn to yoga's philosophical and spiritual foundations.
In the following years, I tried different Yoga styles like Ashtanga, Sivananda, Power Vinyasa, Bikram and Jivamukti. I took one-week intensive Jivamukti retreats in 2013 and 2014 where I had the chance to learn more about the asana practice as well as Yoga philosophy. I continued studying Yoga philosophy and Sanskrit with Manorama D'Alvia for one year.
The style that has proved best for me is the traditional Ashtanga Yoga which I find truly inspiring with its calm power and grace. After maintaining a regular personal practice and attending the Ashtanga courses and workshops with Denise Pesch since 2013, I decided to deepen my practice by continuing my studies in Mysore, India. In 2015, I completed a 200-hour Ashtanga Vinyasa Yoga teacher training led by Jaiprakash who is a direct disciple of B.N. Sundar Raj Iyengar from the Mysore Ashtanga tradition. The training is accredited by Yoga Alliance U.K.
I am interested in deepening my Ashtanga practice including pranayama and meditation, as well as continuing my philosophy studies in the future. Yoga has helped me a lot to feel better physically, emotionally and spiritually. I would like to share the practice with others in order to bring more equanimity and peace in the world.