3-hour Yoga Intensive for Beginners & Advanced
starts Sunday 09 october 2022 at 15:00
Feel spectacularly radiant and full of joy.

Yoga Postures, Breathing Practices, Guided Relaxation, and Meditation to purify and balance the physical body and subtle energy system.

"Intensive" does not mean physically intense. This is for beginners and advanced students who wish to reconnect to their deepest self through yoga. The program includes a discourse on one aspect of Indian philosophy to broaden one's knowledge of Samkhya, Yoga, or Vedanta philosophy.
Bring your mat and a cushion. Do not eat 2 hours beforehand.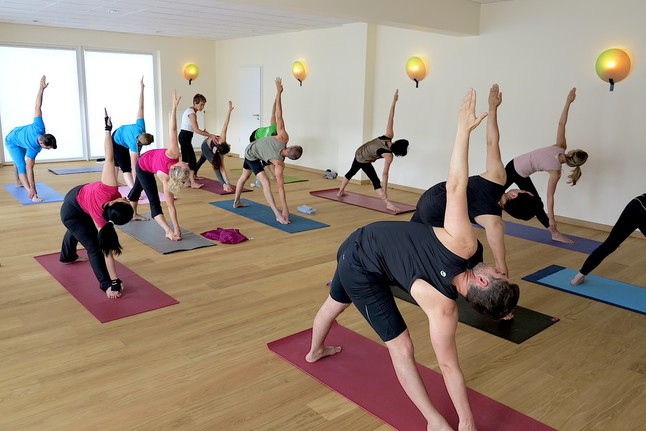 the sun salutation followed by a postural sequence with variations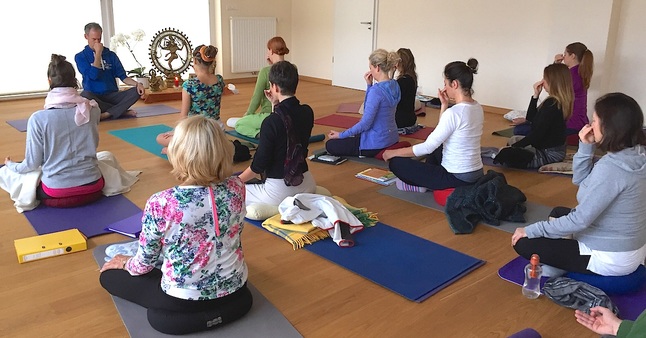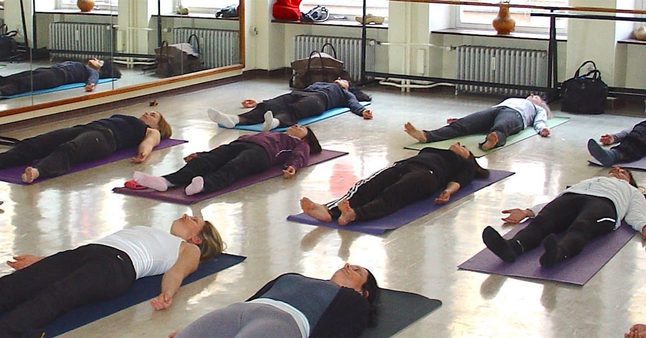 a nidrā practice of deep guided relaxation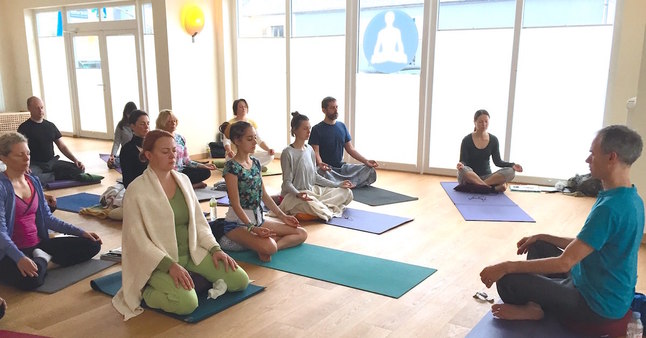 "Thank you for the great yoga session I had yesterday. The structure and composition of your session are divine. I felt so relaxed when I came home, like coming back to myself after all these years..." - I.S.
Price
45 € normal; 40 € early-bird before October 3rd
Cancellation Policy
Before October 3rd, we will refund you in full. From October 3rd onward, we will give you a credit that is valid until the end of the term to participate in one of our weekly classes, or we will refund you in full only if you find someone to replace you.
Style: Sivananda Yoga (2 hrs)
This integrative approach brings together the Sivananda asana (posture) sequence, pranayama (breathing), nidra (guided relaxation), mantra and meditation to purify and balance the physical body and subtle energy system. This is for beginners and advanced students wishing to feel the deep state of one's Essence through traditional yoga. Go to the Sivananda Yoga (2 hrs) page.
Teacher: Fredric Bender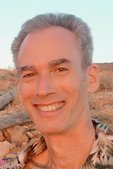 Fredric has been teaching yoga for 30 years and has been co-director of Centre de Yoga - La Source since 1995. He started yoga in 1987 and took the Sivananda teachers training in 1990. Due to his own back injuries before yoga, he developed a sequence of yoga variations that form the cornerstone of his popular lower back yoga program. In 2006, he organized and completed a 4-year 500-hour teacher training program in the Nidrā Yoga of Kashmir Shaivism with André Riehl which was completed in 2010. Featured on the cover of Luxembourg's Revue Magazine for an interview on yoga meditation and invited to lead meditation programs at Fortune 500 companies' global retreats. Please read his articles on yoga in our "Learning Corner". Go to Fredric's page.
Location: Strassen
147 route d'Arlon, Strassen. With oak floors and a warm ambiance, our Strassen center is a haven from the hustle and bustle of city life, located on route d'Arlon near rue de Reckenthal, just 200m from the A6/E25 autoroute. Go to the Strassen page.