Wednesdays 19:00-20:30
Ashtanga Yoga
Registration
Style
Ashtanga Yoga
Ashtanga vinyasa is a hatha yoga practice transmitted to Pattabhi Jois from the great yoga master Krishnamacharya. It is for students seeking an invigorating approach that purifies, stimulates and energizes. It consists of postures practiced in a fluid rhythm with a concentrated breath, steady gaze, and internal contractions to direct vital energy. Due to the dynamic nature of this practice, one feels completely energized and purified in each cell of the body and also in the mind. More details
Attention: This summer course is now over. Please view
Autumn schedule
starting September 16th.
Teacher
Surya Fackelmann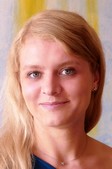 Surya was first exposed to yoga when her mother practiced it while pregnant. She practiced yoga as a child and, after some years of absence, took up a daily yoga practice in 2011. Since 2013, she practices Ashtanga Vinyasa yoga on a daily basis. Surya has experienced the obvious benefits of a dedicated Ashtanga practice - improved strength and flexibility. She also deeply values the more subtle benefits, including inner balance and a calm strength of body and mind - on and off the mat. Surya believes that Ashtanga should be practiced with sincerity, humor and joy. She completed her 200h-teacher training (TT) at Ashtanga Yoga Paris and is near the end of an additional 300h-TT at the same school. Surya is grateful to have learned about the 8 limbs of Ashtanga from senior teachers. She dedicated time to study with Lino Miele and Sharmila Desai in India. Happy to be able to share her knowledge and experience with kindness, clarity and utmost respect for students and their background, she looks forward to being a life-long student herself. More details
Location
Strassen
147 route d'Arlon, Strassen. With oak floors and a warm ambiance with a view from the terrace of an occasional grazing sheep, our Strassen center is a haven from the hustle and bustle of city life, located on route d'Arlon near rue de Reckenthal, just 200m from the A6/E25 autoroute. See location & map
What to bring
There are men and women's changing rooms at this location. Wear comfortable clothing to stretch in.
There are 10 yoga mats to borrow out of 24 possible students attending. We prioritise the mats for first-time students who don't have a mat. After the first class, please purchase and bring your own mat. We sell mats at good value.