Wednesdays 18:30-20:00
Hatha Yoga
Registration
Term
starting October 4, 2023
198 €
11 classes remaining
Class price average: 18.0 €
Single Class
October 4, 2023
22 €
Space available, but registration only possible 48 hours before class time.
October 4, 2023
Space available, but registration only possible 48 hours before class time.
Log In
Create Account
Calendar
10
- Upcoming classes you have canceled
Set reminder: no class November 1st.
Style
Hatha Yoga
Hatha Yoga involves physical postures (asanas), breathing techniques (pranayama), energy locks (bandhas), energy seals (mudras) and other practices to strengthen the physical body and to purify and balance one's energy to increase vitality, equanimity and joy of life. More details
Teacher
Diana Zagorskaya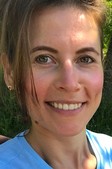 Yoga has been a part of Diana's life since the early 2000s and is what she had always been seeking. Born on the border with China, she has been highly influenced by eastern culture, medicine and the vision of physical and spiritual health. She completed her 200-hour Vinyasa & Hatha Yoga teacher training followed by her 300-hour Advanced Yoga Teacher Training in Yin, Somatic yoga, Pranayama and Mindfulness with "5 Elements International School of Yoga and Movement" in 2017. Her mission as a yoga teacher is to accompany and serve people in the journey of coming upon their true natural and individual selves in an intuitive and mindful way. More details
Location
Strassen
147 route d'Arlon, Strassen. With oak floors and a warm ambiance, our Strassen center is a haven from the hustle and bustle of city life, located on route d'Arlon near rue de Reckenthal, just 200m from the A6/E25 autoroute. See location & map
What to bring
Practice in comfortable clothing. There are men and women's changing rooms at this location.
Please bring your own mat. See selection to order.