Wednesdays 20:00-21:30
Classes remaining: 0 Term Price: 0 € Single Class: 18 €
This course is taught in English.
Style: Vinyasa Yoga Basics
Vinyasa yoga comes from the same roots as Ashtanga yoga with asana sequences that develop the postures at a moderate rhythm. Like Ashtanga, vinyasa yoga focuses on integrating mindful breathing and conscious movement as one flows directly from one posture to the next, bringing strength, vitality, steadiness, and presence. Go to the Vinyasa yoga basics page.
Teacher: Tine Weiler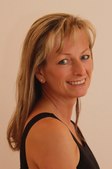 After a lifetime in sports, Tine started practicing yoga in 2007. Beyond the physical benefits of flexibility and strength, she became more fascinated by the mental aspects of yoga: being present in the body in the here and now, finding balance and remaining centered. She took classes and workshops in Vinyasa, Ashtanga, Sivananda, Jivamukti and Yin Yoga, always being open to different approaches to that which Yoga means: to unite body, mind and soul. In February 2012, she finished her 200-hour Teacher Training in Vinyasa Yoga. Since then, she has expanded her knowledge in Yin Yoga to balance the dynamic aspects of Vinyasa. Go to Tine's page.
Location: Strassen
With oak floors and a warm ambiance with a view from the terrace of an occasional grazing sheep, our Strassen center is a haven from the hustle and bustle of city life, located on route d'Arlon near rue de Reckenthal, just 200m from the A6/E25 autoroute. Go to the Strassen page.
What to bring
There are men and women's changing rooms at this location. Wear comfortable clothing to stretch in.
There are 10 yoga mats to borrow out of 24 possible students attending. We prioritise the mats for first-time students who don't have a mat. After the first class, please purchase and bring your own mat. We sell mats at good value.
Payment
At registration, we require term payment to guarantee your place. You may cancel after the first class according to our term cancellation policy.
List of Individual Classes
Date
Info
There are no classes scheduled for this course at this time.
+ Term Registration
Term Registration
To register for this course please send us an email to info@yoga.lu