Saturdays 11:00-12:30
Yoga with Marija
Registration
Term
starting February 4, 2023
108 €
6 classes remaining
Class price average: 18.0 €
Single Class
February 4, 2023
22 €
Space available, but registration only possible 48 hours before class time.
February 4, 2023
Space available, but registration only possible 48 hours before class time.
Log In
Create Account
Calendar
10
- Upcoming classes you have canceled
No class January 14th, February 11th & 18th and April 1st
Style
Yoga with Marija
With a background in Ashtanga vinyasa, Vinyasa Krama, and Iyengar yoga, all from the lineage of T. Krishnamacarya, Marija is currently arranging a yoga course suitable for all based on her lifelong experience and recent studies with AG Mohan, one of the last living direct disciples of Krishnamacarya. Please read her full bio page. More details
Teacher
Marija Bjekovic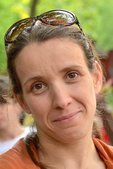 Marija's teaching path started after the completion of 200 hours Ashtanga yoga teacher training with John Scott and Lucy Crawford Scott in 2015. Over the years, she found the grounding for both her studies and teaching in the legacy of Sri T. Krishnamcharya, the father of modern yoga and a pioneer in yoga therapy. She has been studying his legacy through the lens of his two long-term students, Srivatsa Ramaswami and A.G. Mohan. She is currently completing a 300 hours Svastha Yoga Therapy Foundations program with A.G. Mohan and his family. The practice has shown her that strength, stability and flexibility are qualities to be found at other levels than purely physical. The physical form is paradoxically merely the background for contemplation of constant interplay and alignment of energies within. When she teaches in Ashtanga vinyasa context, she does so from an understanding that such a layered practice is primarily meant as a framework to start cultivating subtle breath and calm mind. The physical aspect of practice can and should be individualized, without compromising the more profound nature of the practice. She loves to encourage students to explore the practice from such a perspective, and to support them in growing a sustainable and nourishing yoga practice through different fluctuations of life. More details
Location
Strassen
147 route d'Arlon, Strassen. With oak floors and a warm ambiance, our Strassen center is a haven from the hustle and bustle of city life, located on route d'Arlon near rue de Reckenthal, just 200m from the A6/E25 autoroute. See location & map
What to bring
There are men and women's changing rooms at this location but come dressed if possible in comfortable clothing to stretch in.
Please bring your own yoga or exercise mat. We have mats for purchase at 30 and 55 Euros.