Wednesdays 19:00-20:15
Iyengar Restorative
Registration
Calendar
10
- Upcoming classes you have canceled
This class may run 5-15 minutes longer than its time spot indicates.
Style
Iyengar Restorative
This methodology comes from the lineage of BKS Iyengar. It uses props, like blankets, cushions, cork bricks and cloth or elastic bands to mitigate chronic stresses within the body and facilitate the release of deeply-held tensions. Postures are held passively and comfortably for extended periods and include simple forward bends, supported backbends and inversions, gentle twists and more. The student is better able to focus within and breathe in his/her natural rhythm. It induces a calm, restorative state of mind. More details
Teacher
Beata Gerbredere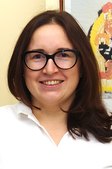 With 14 years teaching experience of Iyengar Yoga, Beata was first introduced to it at the age of 17. She studied with Faeq Biria, director of Centre de Yoga Iyengar, Paris. Asana practice under his guidance was physically challenging but brought her happiness and light. She received her 3-year 500-hour Iyengar certification in 2003 and has taught courses and led workshops in Latvia for beginners and advanced students ever since. To better understand body mechanics, she became a physical therapist. With pregnancy and kids, her personal practice has become more restorative, and she appreciates the restrictions that others face when starting yoga. She is very happy to share her knowledge and experience with others. More details
Location
Walferdange
25, rue Josy Welter, Walferdange. This warm and cozy setting provides an intimate and wonderful atmosphere for the practice of yoga. Easy to get to, with a bus stop 100 meters away and parking in the Mairie and the cemetery. Entrance is to the left of the house. See location & map
What to bring
There is a changing room at this location but come dressed if possible in comfortable clothing to stretch in. Please bring your own mats, bricks, belts, and blankets. We have mats for sale at 25 and 45 Euros. Info for your first yoga class.