Thursdays 20:00-21:15
Yin Yoga
Registration
Calendar
10
- Upcoming classes you have canceled
This course is taught in English.
Style
Yin Yoga
Yin yoga is a modern synthesis of Tao Yin and hatha yoga developed by Paul Grilley and Sarah Powers. In Yin yoga, floor postures are held for a long duration (3-5 minutes). On a physical level, it helps to increase the suppleness in the joints within our natural range of motion. While staying in the positions, we apply gentle pressure on the joints and relax the muscles around them. This way we affect the deep connective tissues and initiate the natural repair mechanism of the body. Energetically, Yin Yoga helps opening the body's meridian system. It increases our vitality and harmonizes the energetic activity of the body. More details
Teacher
Danijela Radic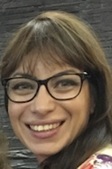 Danijela's first contact with yoga was back in the late '90s in Belgrade. In 2009, she joined Denise's Ashtanga courses and followed them for eight years before taking La Source's 300-hour Hatha Yoga Teacher Training, completed in April 2016. She continued in trainings, mainly in Ashtanga, Vinyasa Krama and Yin. She went to study with Srivatsa Ramaswami in Europe and India, obtaining two Advanced Teacher Training certificates (200 hrs) in Vinyasa Krama. It has helped her tap into deeper levels in her personal practice. While still in love with Ashtanga and its captivating flow of breath with movement – Vinyasa Krama unlocked the various stages of each asana and improved her stillness. Practicing yoga makes her happy and light. It clears her mind and frees the space for new ideas. She is grateful for the opportunity to share some of that lightness with you. More details
Location
City center: rue Louvigny
18, rue Louvigny 1st floor, Luxembourg city. Vedanza dance studio is a conveniently situated location on "pedestrian only" rue Louvigny in the heart of the city with many bus and parking options. See location & map
What to bring
There is a changing room at this location. Wear comfortable clothing to stretch in. You will need to bring your own yoga or exercise mat as we only have a few available for those trying the class for the first time. Info for your first yoga class.
Arrival
The front door will be locked. Please arrive early and press the buzzer for the dance school to gain entrance then proceed up to the first floor. Buzzing late will disturb the class in progress.
Payment
At registration, we require term payment to guarantee your place. You may cancel after the first class according to our term cancellation policy.