Traditional Hatha Yoga & Meditation
commençant le Vendredi 20 septembre 2013 à 18:30
Ce week-end est enseigné en anglais.

Workshop:
During this workshop you will study and practice all the aspects of Hatha Yoga - from Vinyasa to Asana and from Mudra to Meditation. You will gain insight into the deeper aspects of yoga (Prana, the Vayus and Kundalini) through direct personal experience.
What makes Daniel's teachings unique is that they unite a strong physical practice with the rarely taught spiritual and meditative essence of Yoga. This is a rare opportunity to dive deep into Yoga and Meditation.
Student:
Regardless if you are a novice or teacher, the workshop is sure to leave you inspired with practical tools to deepen your practice. Its open to students of all levels, but it is assumed that all students can do a sun-salutation, some basic asanas and sit straight with crossed legs for 15 minutes.
Daniel: is a true seeker and has dedicated his life to practice and teach Yoga and Meditation with contagious enthusiasm. He met and lived with his guru in India at the age of 25 where he practiced intensely all aspects of yoga - asana, pranayama, bandha, mudra, mantra, kriya, and meditation. His thirst for knowledge led him into deep study of yogic scriptures and philosophy. He returned to Sweden where he started a successful yoga center. He now travels internationally to spread the teachings he has received. See www.yogadaniel.com for info…
Style : Hatha Yoga
Hatha Yoga est la branche de yoga qui implique des postures physiques, des techniques de respiration et d'autres pratiques pour renforcer le corps physique et purifier et équilibrer son énergie pour augmenter la vitalité, l'équanimité et la joie de vivre. Visitez la page : Hatha yoga.
Enseignant : Daniel Strausser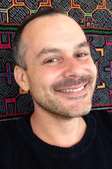 The spiritual way of Yoga that Daniel shares has become a rare commodity in today's yoga scene. Daniel lived and practiced in the caves of the Himalayas and was initiated into an ancient brotherhood of Yogis by his guru in the early 2000's. Since then, he has studied Yoga, Meditation and Tantra under great masters in India and shares the essence of his research with beginners, yogis and senior yoga teachers throughout the world. For 10 years, he ran a yoga studio in his native Sweden, but since 2011 he lives in Chiang Mai whenever he does not meet his Guru in India or teach internationally. Daniel : Visitez sa page.
Lieu : Bereldange
15a, am Becheler, Bereldange. Avec son plancher de bois, sol chauffé, ses hauts plafonds et une vue sur les jardins, la salle polyvalante de Club Haus am Becheler est un endroit calme et idyllique pour nos cours de yoga. Visitez la page : Bereldange.