Yogic Breathing, Relaxation, Meditation
starts Wednesday 25 november 2020 at 20:00
In this one-hour practice taught in English, we tune into our subtle pranic energy system with conscious full yogic breathing for 10-15 minutes, then practice a deep guided relaxation with yoga nidra to prepare ourselves for meditation and enter into a state of mental stillness and clarity.
You will need a mat to lie on and a cushion to sit on. There will be no hatha yoga asana practices.
Set-up for Streaming
After registration, you will receive an email with the preparatory steps necessary to stream the class and the Meeting ID number and password.
Family members in the same house can participate under one registration.
Style: Breathe, Relax, Meditate
This course involves yogic practices to relax the whole body and elevate the mind. There are no physical exercises or yogic postures other than lying and sitting. First, we relax the whole body (muscles, organs, bones, senses) and the mind (mental tensions) through the practice of Nidra Yoga. We then practice yogic breathing (pranayama) to tune into, purify and calm the more subtle energy body, then chant to elevate our vibratory level. Finally, we come to a state ready for meditation where we can dissolve into a feeling of eternity and infinity. Go to the Breathe, Relax, Meditate page.
Teacher: Fredric Bender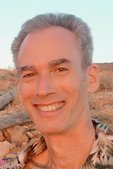 Fredric has been teaching yoga for 30 years and has been co-director of Centre de Yoga - La Source since 1995. He started yoga in 1987 and took the Sivananda teachers training in 1990. Due to his own back injuries before yoga, he developed a sequence of yoga variations that form the cornerstone of his popular lower back yoga program. In 2006, he organized and completed a 4-year 500-hour teacher training program in the Nidrā Yoga of Kashmir Shaivism with André Riehl which was completed in 2010. Go to Fredric's page.
Location: At Home
Download the zoom app at zoom.us and follow our instructions to set yourself to stream our classes at home Go to the At Home page.