Streaming Manish Vyas: "A Conscious Approach to Meditation"
starts Saturday 28 march 2020 at 17:00
This 1-hour guided meditation is taught in English.
Theory and Practice with Manish Vyas
Manish Vyas will share his insights on Meditation and then dive into the technique. He will end the session with an introduction of the subject of "mantra" and will provide the details of the mantra for people to play for themselves after the live session. He will instruct all to listen to that mantra in a certain way for approx. 10 min. - meaning, the ending part they will do by themselves with the mantra (which will also be available in online platforms.)
The Meditation is called SAT-CHIT-ANANDA. It is a very passive, breath-oriented technique to come close to the Self, the spontaneous true nature of one's being. Especially in the modern age, where one can get very identified with the body and the fears surrounding its survival, being overwhelmed with the information and known and unknown worries of the so-called future, this technique is helpful to bring one to the centre, relaxing into the present moment, allowing the acceptance to grow. With the attentive breath movements, one is directed towards grounding into then body and mind, coming in contact with the core of the being.
Set-up for Streaming
After registration, you will receive an email with the preparatory steps necessary to stream the class and the Meeting ID number.
Style: Meditation
Mental chatter is considered the result of unconscious, conditioned thinking that has developed from a very young age, and it imposes a limited filter on reality. Meditation slowly begins to loosen the knot of that conditioned thinking giving one a sense of liberty in responding, rather than reacting, to events in one's life. Meditation does not necessarily give one the power to change external events, but it can empower us with how to respond to those events. Go to the Meditation page.
Teacher: Manish Vyas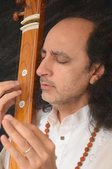 Manish is one of the few earnest kirtan and mantra singers in the West who has the true deep understanding of Indian music and keeps its authenticity most gracefully, with true respect to Indian music. Besides performing concerts and workshops, he also teaches Indian music, mantra singing, harmonium, and tabla. Go to Manish's page.
Location: At Home
Download the zoom app at zoom.us and follow our instructions to set yourself to stream our classes at home Go to the At Home page.