Manish Vyas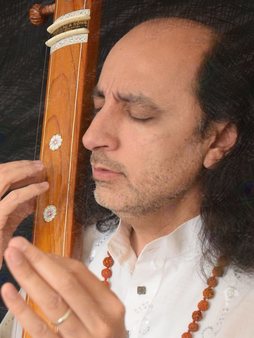 Manish Vyas grew up in a religious, happy and life-loving family in Gujarat, India, and was initiated into sannyas when he was just 7. As a teenager, Manish moved to Pune originally to study engineering, but instead became involved in the music department of Osho's Commune. He played live for Osho and the dance meditations, together with local musicians and others from all over the world. This period made his musical horizons expand. Also, with the interaction with so many Westener musicians in the Osho Ashram, his music became very accessible to Western listeners, still keeping the genuine Indian roots that he received through his musical learning in India since childhood and throughout life.
Growing up in a family of musicians, Manish spent his childhood around a unique atmosphere of dance, meditation, spirituality in which music was always present and has been part of his life ever since.
Manish is a composer, vocalist, and multi-instrumentalist – he is a talented tabla player, a disciple of Ustad Allarakha with whom he learned many years in Mumbai. Later he learned to play the hundred-stringed ancient instrument: Santoor, traditionally used in the folk music of Kashmir. He also plays and teaches harmonium. Having learned Indian music since his childhood with respected Indian maestros, his music reflects the deep feeling of an ancient mystical India, touching the heart of the listener. After years of touring in Europe and US, where he blended his skills with other world musicians, his music incorporated the friendliness to the Western ear – creating a fine blend of his genuine heritage with more contemporary new age sounds - what now is known as fusion music.
The feeling behind his music is that of joy, meditation, and silence. The range that he and his band cover through vocals and Indian instruments (tabla, santoor, harmonium, keyboards, tanpura, swarmandal, bansuri, sitar) gives rise to different flavors: from devotional prayers, mantras, and songs of love; raising up the rhythm to Kirtan music, followed by uplifting dance-celebration music – to finally return to the meditative shanti (peaceful) music. In this way, covering the whole range of emotions through the musical expression. Manish is one of the few earnest kirtan and mantra singers in the West who has the true deep understanding of Indian music and keeps its authenticity most gracefully, with true respect to Indian music.
Besides performing concerts and workshops, he also teaches Indian music, mantra singing, harmonium, and tabla.
Spiritual Path and Personal Life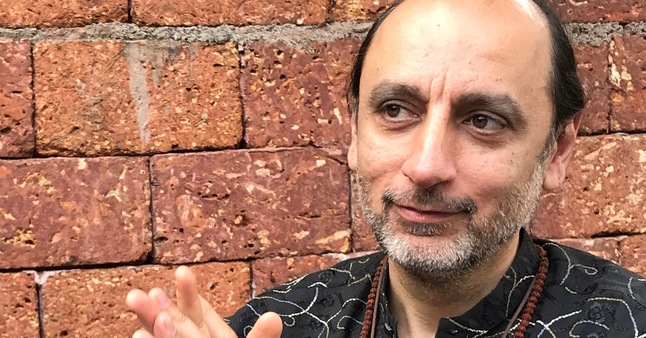 Manish has always been a very spiritual person. Born in a Hindu family, his grandfather was already a follower of Osho and founded an Osho Meditation Centre in Gujarat which at those time became very active. In his house, people were gathering once a week to listen to Osho's discourses (that his grandfather received each week directly from Osho, recorded in a cassette). They would listen to the discourse, eat and dance - and as a child already he became part of this atmosphere.
Later, he became a disciple of one of Osho's first followers and Guru, called Gurudev. He followed him for almost 20 years seeking a path of liberation.
He worked many years and gained a deep experience as meditation coordinator and musician during this time - participating in the foundation of a Mystery School in the South of India, "Osho Mystery School" where he worked 4 years coordinating 40-day retreats and providing the best possible music one can ever come across, for the different meditations and activities that the ashram offered. For this reason, nowadays he also coordinates and leads retreats - and has the perfect understanding and sensibility of the music needed for meditation and for bringing people to relaxation and inner silence.
In January 2017, he got married to Sa, who he met in India in a 40-day meditation retreat, and they are living in Switzerland. After having followed many Gurus and having participated in dozens of retreats in the search of truth, Manish now believes the path is inside - where our true guru resides and we have to be able to connect with it. For both of them, the real path is consciousness, he said, "if people act with consciousness, a better world and peace will happen without the need of any additional effort, therapies, gurus, religions, theories, etc. But unfortunately, the level of consciousness on this planet is at a very low level and difficult to encounter in our daily life interactions. Everyone should focus on themselves to become more aware, to act consciously, beginning by each simple thing."
Visit Manish's website.
Past Events
Manish Vyas
Thu. jun. 20, '19 at 10:00
Manish Vyas
Fri. jan. 25, '19 at 19:00