Sahaj Atma: Music that illuminates the Soul
starts Friday 25 january 2019 at 19:00
Friday evening Indian music concert followed by a Saturday morning mantra chanting workshop with Manish Vyas
Day
Time
Activity
Friday
19:00-20:30

Indian Music Concert: "Sahaj Atma: Music that illuminates the Soul"

Manish Vyas' music is that of joy, meditation, and silence. The range that he and his band cover through vocals and Indian instruments (tabla, santoor, harmonium, keyboards, tanpura, swarmandal, bansuri, sitar) gives rise to different flavors: from devotional prayers, mantras, and songs of love; raising up the rhythm to Kirtan music, followed by uplifting dance-celebration music – to finally return to the meditative shanti (peaceful) music. In this way, covering the whole range of emotions through musical expression. Manish is one of the few earnest kirtan and mantra singers in the West who has the true deep understanding of Indian music and keeps its authenticity most gracefully, with true respect to Indian music.

Manish will be accompanied on sitar by Hindol Deb, born into an Indian family of folk musicians and student of Pandit Deepak Chowdhury, a senior disciple of Maestro Ravi Shankar. (See bio)

Come join us for a beautiful evening that will open your heart and bring you in tune with your soul.

Saturday
10:00-13:00

Mantra Workshop: "Naad Shakti, The Power of Indian Sacred Sounds"

Mantra is a sound, a vibration - and the correct vibration is like a key which can unlock a higher dimension. In the science of mantra, meanings are not so important as 'meanings' belong to the sphere of the mind. A mantra comes from the source of creation and when the transmission is pure, then it can become a transformative force.

The workshop combines theory and practical activities. The participants leave with tools to apply techniques with mantras in their life, in yoga, in meditation, for promoting good sleep, for relaxation. It gives the right understanding and the necessary tools to relate to this ancient mantras.

Read more on mantras by Manish Vyas - pdf download

Overview of points covered in the workshop:

Introduction to mantras and how mantras are used in India - technically and devotionally
Why sound is healing and why it is great to use the right sounds for meditation and pranayam
What is the science behind the mantra and the technique to make the practice effective
Preparation for chanting / explanation of rasa or spirit given to the music
Sanskrit and the importance of mantra pronunciation
Mantra and Kirtan - how it originated, how it is actually used in India
Music for elevation v. music for entertainment
Mythology behind mantras
How to approach mantras in meditation and for daily practice
Relation between mantra and breath: practice of one pranayam with mantra
Chanting with harmonium / Use of tanpura
Introduction and singing together of different mantras
Q&A and comments
Closing mantra
Tea and informal final open talk
What to bring
Most participants will sit on the parquet floor, but we will have some chairs for those who need. For the floor, bring a blanket and cushion.
Participation
We expect this special event to fill up. We suggest booking your place well in advance!
This workshop is run under the auspices of INFINY asbl and only publicized by Centre de Yoga - La Source. Payment is made to INFINY, not La Source.
There is a one-time 5 € INFINY membership fee each calendar year even if you are only attending a single session. The 5 € membership fee is necessary for insurance purposes.
Price
The full workshop price is 85 Euros. Early-bird registration by December 14th is 70 Euros, but payment must be made at time of registration. 15% discount for children - please email us separately with their age(s); we will register them manually.
Cancellation Policy
All cancellations are subject to a 20-Euro administration fee. Payment is fully refundable (less the administration fee) if cancellation is done no later than December 14th. 50% lost if canceled by January 7th. If you cancel after January 7th, you may only be refunded if you are able to find a replacement for your place even if your cancellation is due to an illness.
Register
Early-bird rate until December 14
Workshop Cost: 70 €
by individual session
25 € | Fri. Jan. 25, '19 at 19:00-20:30
55 € | Sat. Jan. 26, '19 at 10:00-13:00
log in
create an account
Style: Nada Yoga
There is something sacred inside each one of us that vibrates in perfect harmony with the Universe. However, the cacophony of our thoughts prevents us from enjoying this inner harmony. Nada Yoga teaches us how to rise above this noise, go deeper into our heart and discover the inexhaustible source of inner peace and strength there. Go to the nada yoga page.
Teacher: Manish Vyas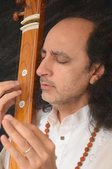 Manish is one of the few earnest kirtan and mantra singers in the West who has the true deep understanding of Indian music and keeps its authenticity most gracefully, with true respect to Indian music. Besides performing concerts and workshops, he also teaches Indian music, mantra singing, harmonium, and tabla. Go to Manish's page.
Location: Bereldange
With heated wood floors, high ceilings and a view of the gardens, Club Haus am Becheler's "salle polyvalente" is a quiet and idyllic place for our yoga classes. Go to the Bereldange page.