Yoga: Toward an Inner & Outer Transformation
starts Saturday 28 september 2019 at 09:00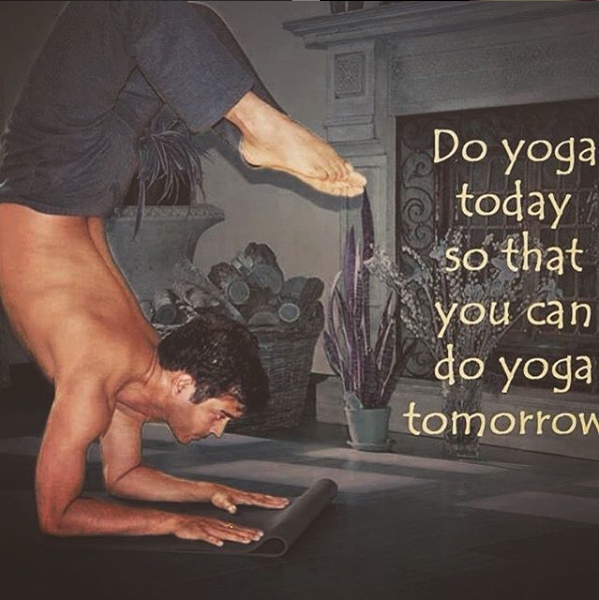 Yoga developed thousands of years ago to evolve humanity on physical, mental, and spiritual levels. Yoga balances body and mind through practices that create harmony and bring inner and outer transformation. Native to Rishikesh, Mukesh Kothari invites you to take an authentic journey to discover and use yoga methods correctly: asana, pranayama, bandha, and ayurveda through theme-based workshops which create understanding and bestow wonderful benefits.
They were developed to improve your practice, master advanced postures, develop breathing skills, understand the anatomy in yoga and learn useful secrets behind training. The workshops are dedicated to all levels. Beginners welcome!
Program

Saturday

9:00-12:00

"Blooming Lotus: Pranayama"

Pranayama is under-valued in yoga classes. Many students don't experience the flow of prana in the body and therefore have no clear understanding of its benefits. Pranayama refers to the expansion of prana (vital energy) that survives, grows, and heals the body and mind.

In this session, we dive deep into the practice, philosophy and psychology of pranayama.

The workshop contents are:

The correct breathing method
Yogic breathing
Detox breathings
Explanations of the process of inhaling, exhaling, and retention.
Home practice schedule

"Moola workshop: Hip opening"

Moola is 'The root' in Sanskrit. Moola Bandha and Mooladhara chakra form the basis of yoga
practice in the sense of physical and spiritual work.

This is a very unique session with a focus on the iliopsoas which is considered a spiritual muscle in Yoga. It controls daily activities, decisions, and thinking. This special session combines basic to intermediate hip-opening yoga techniques to release inner stress with relaxation.

The moola bandha and its application are taught with a deep focus of releasing hip stiffness.
This class is recommended for people with tight hips, for those who are trying to master
Padmasana (Lotus), understanding Moola bandha (Root lock), restorative (YIN) and Dynamic
(YANG) based class.

Mukesh leads a warm-up for the hip opening practice

The workshop contents are:

The vinyasa krama based flow sequence mainly focusing on hip opening and roots.
Theory and adjustments involving hip rotation, adduction and abduction, explained with anatomy.
The workshop is intensive in nature and involves moon salutation.
The last part of the workshop is Yin based, bringing deep fascia release.
Practice of Moola bandha at the end along with pranayama.

Saturday

12:00-14:00

lunch

Saturday

14:00-17:00

"Principles of energy in Hatha Yoga and Vinyasa"

This hatha yoga in vinyasa practice is done as in the Himalayas. The session throws light on yoga fundamentals and is semi-dynamic in nature. We explore the movement of Prana (Energy) and activation of chakras (Energy enters). Understanding breathing movement and ratio of inhalation and exhalation is required to enhance the practice and helps in the learning of pranayama.

The workshop contents are:

Vinyasa-made asana practice
Understanding the mechanism of breathing
Types of prana in the body required for practice
Pranayama

Sunday

09:00-12:00

"Asana, Bandha, Dhyana"

The workshop mainly focuses on physical asanas and internal locks followed by meditation so that the practice is complete in a yogic sense. It includes intermediate asanas with their anatomical correction, adjustments for all levels, activating the line of muscle coordination, avoiding injuries and satisfying individual needs.

On the level of Bandhas, an exact route will be followed that will help in enhancing the internal energy level and effectiveness of asanas.

Meditation follows at the end to bring the total effect in the form of harmony and balance for mind and body.

The workshop contents are:

The first hour is dynamic in nature with necessary anatomical conditioning that trains the surface and deep muscles for safe intermediate practice.
The second hour contains intermediate postures in semi-dynamic form with high-quality adjustments applying internal locks.
Includes basic breathing methods that can lead to higher awareness thus leading to the state of meditation.

Sunday

12:00-14:00

lunch

Sunday

14:00-15:30

"Core workshop"

The core is a vital concept in yoga practice but is not understood very well. Students keep suffering unknowingly with low back pain, weak muscle application during yoga postures, and inability to master peak positions.

In this core workshop, we go deep into the core mechanics and muscles involved in the family of the core group. Once understood anatomically, core applications can do the following miracle:

Your postures will become easier than before.
You will be able to master challenging postures such as Navasana 2, Vinyasa jump back, Mayurasana (Peacock), Bakasana or leg bak asana (Crane bird) and Ashtavakrasana (eight twisted poses).


You will grow more understanding of your body.
A step closer to handstand
You will become confident with variations of the headstand.
A healthy back and pain-free practice

The workshop is meant for:

Practitioners of ashtanga or vinyasa-based style
Students with on/off lower back pain or intervertebral disc issues
Having knee pain on regular intervals
Students aiming to accomplish arm-balance-based postures

The workshop contents are:

Understanding the core through muscle application step-by-step in theory and practice
Very well integrated yoga asana practice stemming from the BinduSar method
Understanding joint mechanism when the core is applied
Intermediate level of postures leading to peak poses achieved through gradual warming of the body
Very safe in practice

15:30-17:00

"Yoga for the spine"

This sequence is entirely focussed on scoliosis which requires a different approach so that the practice is safe and efficient in managing discomfort. Anatomy and healing steps are explained.

The workshop is meant for:

People with spine issues
People with back pain
Beginners who want to start yoga
Regular spine students
Teachers who work with students with scoliosis
Participation
Save 65 Euros with full workshop early-bird registration by August 27th as compared to the total of the single-session registration amount after the early-bird period expires (60x3+30x2=240). Payment must be made at time of registration for early-birders!
This workshop is run under the auspices of INFINY asbl and only publicized by Centre de Yoga - La Source. Payment is made to INFINY, not La Source.
There is a 5 € once-a-calendar-year INFINY membership fee even if you are only attending a single session. The 5 € membership fee is necessary for insurance purposes.
Cancellation Policy
All cancellations are subject to a 20-Euro administration fee. Payment is fully refundable (less the administration fee) if cancellation is done no later than August 27th. 50% lost if canceled by September 13th. If you cancel after September 13th, you may only be refunded if you are able to find a replacement for your place even if your cancellation is due to an illness.
Style: Hatha Yoga
Hatha Yoga involves physical postures (asanas), breathing techniques (pranayama), energy locks (bandhas), energy seals (mudras) and other practices to strengthen the physical body and to purify and balance one's energy to increase vitality, equanimity and joy of life. Go to the Hatha yoga page.
Teacher: Mukesh Kothari
Mukesh is a spiritual counselor for some and yoga guru to others. He was introduced to yoga and Ayurveda at an early age as his father is an Ayurvedic doctor in his native Rishikesh. He started learning yoga concepts at an early age under the guidance of Swami Hanumant Giri and continued his education for 14 years at the school of Honorable Swami Omkarananada Saraswati. He has been teaching yoga since 2003 after finishing his formal education in Yoga and Ayurveda. His teaching of Hatha yoga is inspired by modern styles such as Ashtanga Vinyasa, Vinyasa, and self-created Bindusar yoga system. His teachings also include the study of classical texts like Patanjali Yoga Sutra, Hatha yoga texts such as Hatha yogapradipika, Gherand Samhita, Hatha ratnavali, where the complete approach of asanas, pranayama, meditation, and Vedanta emerges. He is actively teaching in Budapest, Vienna, Prague, Moscow, Bratislava, London, Sardinia, Cluj, and Bucharest. He has trained over 600 Yoga teachers on the European continent since 2012. Go to Mukesh's page.
Location: Walferdange
25, rue Josy Welter, Walferdange. This warm and cozy setting provides an intimate and wonderful atmosphere for the practice of yoga. Easy to get to, with a bus stop 100 meters away and parking in the Mairie and the cemetery. Entrance is to the left of the house. Go to the Walferdange page.