Meditation (1 hr) & Dinner
starts Sunday 09 december 2018 at 17:00
Come join us for a free Sunday meditation gathering and dinner!
We'll start at 17:00 with a brief discussion on yoga philosophy followed by breathing practices, mantra chanting and meditation. Please bring a cushion and a folded blanket to sit on.
At 18:00, the practice will end and those who wish to dine together will go to Swagat Indian Restaurant 300m from the center.
Participation
If attending meditation and dinner, please select "whole workshop". The meditation is free, but one pays the restaurant, not us, his own share for the dinner.

If attending just the meditation and no dinner, please select "individual session - 17:00".

A confirmation email will be sent with "payment information" set at "0".
Style: Meditation
Mental chatter is considered the result of unconscious, conditioned thinking that has developed from a very young age, and it imposes a limited filter on reality. Meditation slowly begins to loosen the knot of that conditioned thinking giving one a sense of liberty in responding, rather than reacting, to events in one's life. Meditation does not necessarily give one the power to change external events, but it can empower us with how to respond to those events. Go to the Meditation page.
Teacher: Fredric Bender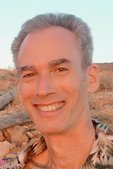 Fredric has been teaching yoga for 29 years and has been co-director of Centre de Yoga - La Source since 1995. He started yoga in 1987 and took the Sivananda teachers training in 1990. Due to his own back injuries before yoga, he developed a sequence of yoga variations that form the cornerstone of his popular lower back yoga program. In 2006, he organized and completed a 4-year 500-hour teacher training program in the Nidrā Yoga of Kashmir Shaivism with André Riehl which was completed in 2010. Go to Fredric's page.
Location: Strassen
With oak floors and a warm ambiance with a view from the terrace of an occasional grazing sheep, our Strassen center is a haven from the hustle and bustle of city life, located on route d'Arlon near rue de Reckenthal, just 200m from the A6/E25 autoroute. Go to the Strassen page.