Thursdays 19:00-20:30
Streaming Yin
Registration
Term
starting October 5, 2023
165 €
11 classes remaining
Class price average: 15.0 €
Calendar
10
- Upcoming classes you have canceled
Set reminder: no class November 2nd.
Term price average = 15€
Register on a term basis above. We will add credits to your account so that you can apply a credit each week on the Zoom class page of the course (
found here
) to receive that week's Zoom details.
Single-class = 18€
Single-class registration available only on
the Zoom class page
.
...her class is just so gooood. - M.S. - 3/2/2023
Style
Streaming Yin
Yin yoga is a modern synthesis of Tao Yin and hatha yoga developed by Paul Grilley and Sarah Powers. In Yin yoga, floor postures are held for a long duration (3-5 minutes). On a physical level, it helps to increase the suppleness in the joints within our natural range of motion. While staying in the positions, we apply gentle pressure on the joints and relax the muscles around them. This way we affect the deep connective tissues and initiate the natural repair mechanism of the body. Energetically, Yin Yoga helps opening the body's meridian system. It increases our vitality and harmonizes the energetic activity of the body. More details
Teacher
Diana Zagorskaya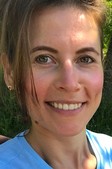 Yoga has been a part of Diana's life since the early 2000s and is what she had always been seeking. Born on the border with China, she has been highly influenced by eastern culture, medicine and the vision of physical and spiritual health. She completed her 200-hour Vinyasa & Hatha Yoga teacher training followed by her 300-hour Advanced Yoga Teacher Training in Yin, Somatic yoga, Pranayama and Mindfulness with "5 Elements International School of Yoga and Movement" in 2017. Her mission as a yoga teacher is to accompany and serve people in the journey of coming upon their true natural and individual selves in an intuitive and mindful way. More details
Location
Streaming at Home
Download the zoom app at zoom.us and follow our instructions to set yourself to stream our classes at home. See location & map
Materials
bolster or big, tight cushions
blankets or thick towels
yoga blocks
cloth or elastic bands
a free wall space