Wednesdays 12:20-13:20
Iyengar Yoga
Registration
Calendar
10
- Upcoming classes you have canceled
This course is taught in English.
Style
Iyengar Yoga
What is unique about Iyengar Yoga both in respect to asana and pranayama is its emphasis on precision and alignment with the use of props to enable people of varying ages, levels of health and fitness to enjoy the benefits which a sustained practice can bring – the ability to face the physical, mental and emotional challenges of contemporary life with strength, vitality, mobility, thoughtfulness and equanimity. More details
Teacher
Beata Gerbredere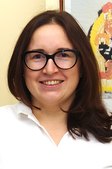 With 14 years teaching experience of Iyengar Yoga, Beata was first introduced to it at the age of 17. She studied with Faeq Biria, director of Centre de Yoga Iyengar, Paris. Asana practice under his guidance was physically challenging but brought her happiness and light. She received her 3-year 500-hour Iyengar certification in 2003 and has taught courses and led workshops in Latvia for beginners and advanced students ever since. To better understand body mechanics, she became a physical therapist. With pregnancy and kids, her personal practice has become more restorative, and she appreciates the restrictions that others face when starting yoga. She is very happy to share her knowledge and experience with others. More details
Location
Strassen
147 route d'Arlon, Strassen. With oak floors and a warm ambiance, our Strassen center is a haven from the hustle and bustle of city life, located on route d'Arlon near rue de Reckenthal, just 200m from the A6/E25 autoroute. See location & map
What to bring
There are men and women's changing rooms at this location. Wear comfortable clothing to stretch in.
There are 10 yoga mats to borrow out of 24 possible students attending. We prioritise the mats for first-time students who don't have a mat and arrive early. After the first class, please purchase and bring your own mat. We sell mats at good value.
Payment
At registration, we require term payment to guarantee your place. You may cancel after the first class according to our term cancellation policy.