Tuesdays 18:30-20:00
Classes remaining: 0 Term Price: 0 € Single Class: 18 €
This course is taught in English.
Style: Ashtanga-led
Ashtanga vinyasa is a hatha yoga practice transmitted to Pattabhi Jois from the great yoga master Krishnamacharya. It is for students seeking an invigorating approach that purifies, stimulates and energizes. It consists of postures practiced in a fluid rhythm with a concentrated breath, steady gaze, and internal contractions to direct vital energy. Due to the dynamic nature of this practice, one feels completely energized and purified in each cell of the body and also in the mind. Go to the Ashtanga-led page.
Beginner & Intermediate:
A previous experience in yoga is recommended but beginners are welcome
Student follows the teacher's instruction but is also introduced to self-practice where the teacher spends time adjusting the student in the postures
The student progresses through the primary series of postures
Term students from lower back, Yin, and Iyengar Restorative courses should contact us first before using a credit in this course.
Teacher: Denise Pesch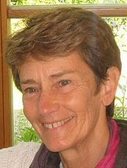 Practicing yoga since 1967 and teaching since 1984, Denise has experienced the feeling of easiness, lightness, joy and health in life and wishes to impart this wonderful experience to all her students in the varied styles of yoga that she teaches - Ashtanga, Sivananda, Vinyasa Krama, Pregnancy yoga, Yoga for the back and Hormone yoga. Go to Denise's page.
Location: City center: avenue Marie-Thérèse
The "salle gymnastique" at Résidence Grand-Duchesse Charlotte - Konviktsgaart is a nice, quiet space facing a garden perfectly situated for our yoga classes in the city. It is a few blocks from Hamilius-Aldringen and also has free underground parking. Go to the City: Marie-Thérèse page.
What to bring
The changing rooms next to the yoga room are for staff only, not our students. If you cannot come dressed in your yoga clothes, you can change in the hallway just before the yoga room. There are some yoga mats for new students to borrow, but not enough for all. If you have your own, please bring it.
Info for your first yoga class.
Payment
At registration, we require term payment to guarantee your place. You may cancel after the first class according to our term cancellation policy.
List of Individual Classes
Date
Info
There are no classes scheduled for this course at this time.
+ Term Registration
Term Registration
To register for this course please send us an email to info@yoga.lu