Outdoor Yoga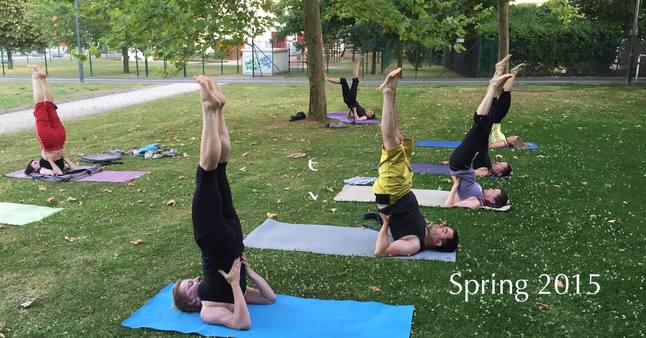 Two Locations
Bereldange
Outdoor classes on Mondays, Wednesdays, and Fridays at 18:30 and Saturday mornings 10:30 depending on weather. Classes take place behind Haus am Becheler's Salle Polyvalente. Sun and shaded areas available. More spacing than the 2015 photo above.
Park Laval (Côté d'Eich)
Ashtanga Yoga on Tuesday or Wednesday evenings. Sun and shaded areas available.
Info
* No toilet facilities available. Come dressed.
* Bring mat and cushion.
* While respecting 2m social distancing, mats cannot be 4m apart or the teacher will not be heard. Bring a mask or face covering in any case and be willing to wear it if asked by the teacher (due to coughing, sneezing).
* The teacher will wear a mask and maintain social distance.
* IGNORE STREAMING INFO in automated confirmation email.
Registration
Outdoor classes are scheduled on short notice - no sooner than 24 hours in advance when we can count on the weather forecast. Due to programming limitations, they will appear on our "Stream Classes" page titled "Outdoor..." and will not be streamed. You can register there.
To receive a notification when an outdoor class has been set up for that day (or next morning), email us at info@yoga.lu indicating day, location, and style you wish to be notified about.