Nāda Yoga: Microchakra Innertuning
commençant le Vendredi 20 mars 2020 à 18:30
The Framework for Spiritual Evolution Through Understanding the Microchakras®, Sound and Mantra (Nāda Yoga)
Ce stage est enseigné en anglais.
Program

Vendredi

18:30-20:00

"Nāda Yoga: Mantra and Chakra Meditation"



led by Shyamji

Through extraordinary mantras and sounds of the chakras with a focus on the breath, reach into your unique golden space, soorya akasha...

The group will also chant along with the master and discuss our experiences. The evening will conclude with a healing chant fortified with the celestial tones of the tambura, an ancient drone instrument for meditation.

Samedi

10:00-12:00

The Light of the Chakras

led by Shyamji

Chakras are subtle wheels of light. Each organ and body part are connected with the chakras as they thrive by their light. There are seven major chakras distributed along the length of the spinal column. Each one may be compared to the Sun. The Sun remains perfect, even though our ability to receive full benefits of its rays may be hindered by various obstructions.

Each chakra creates a mind with its own goals:

first chakra - stability
second chakra - interpersonal exchanges
third chakra - assertion and accomplishment
fourth chakra - to love unconditionally
fifth chakra - communication and creativity
sixth chakra - to intuit and meditate
seventh chakra - contentment and transcendence of the earthly plane

Each chakra rotates in a specific speed and direction, emanating a specific hue that is absorbed by us. The seventh chakra light is dazzling light that can enlighten us. Buddha attained enlightenment. Learn how the light within each chakra shines upon us and the ways to capture it.

Proper pronunciation of the mantras will be taught as a preparation to experience the deep effect of Shyamji's voice called Soorya Akash, the golden ether, a rare element for meditation.

Samedi

12:00-14:00

Lunch

Samedi

14:00-14:45

"Art of Group Chanting from the Nāda Yoga Tradition"

led by Marina Toleva (see bio)

We will use the authentic prerecorded mantras (for all seven chakras) by Sri Shyamji. Group support makes spiritual journey a joy! This is a traditional method of doing kirtan to invoke the energy of the mantras often used in the healing traditions in India.

Samedi

14:45-15:00

Break

Samedi

15:00-17:00

Sounds of Chakras

led by Shyamji

There are fifty-two sounds of chakras that are used by all languages. Seven of those are used by the musicians. Shyamji has found that the sounds of chakras and mantras can remove blockages from the microchakras (pathways of their light). He believes that the blockages are caused by our karma and social customs. Learn the proper pronunciation of the sounds to unblock the microchakras.

Distinction of solar and lunar sounds will be explained and experienced.

Students will learn the rare methods of meditation: they will be taught to chant the specific sounds for the left hemisphere ( for purification of thoughts) and the right hemisphere (for purification of feelings) as a preparation for meditation.

Dimanche

10:00-12:00

Discovery of the microchakras

led by Shyamji

At the age of 12, Shyamji met a Guru in Dehradun (in the Himalayans) who taught him the yoga of sound. Coupled with Hatha yoga and Svar Yoga (breath), he healed his chronic COPD. After 18 years of practice, he had a vision of his own chakras also in a cave in the Himalayas. A year later in NYC in automatic writing of 5 hours, he had a vision of 147 microchakras. He will be teaching the anatomy of the chakras, microchakras and how they effect our body, emotions and mental state. You will learn typical microchakra openings and blockages and some of their characteristics.

Participants will learn the practices to synchronize the left and right hemispheres of the brain through proper manipulation of Ida and Pingala, the breathing channels.

Some mantras and sounds will be chanted to clear blocked microchakras.

Dimanche

12:00-14:00

Lunch

Dimanche

14:00-14:45

Nutrition according to Microchakra psychology

led by Marina Toleva (see bio)

Apana prana is a detoxifier. Learn how to purify your systems on a daily basis to maintain stability.

When all three bodies: physical, feeling and thoughts are in harmony, we intuit what foods to eat and when. Learn how to apply Microchakra Psychology in daily life to open the earthly intuition which is represented as a six microchakra in the first chakra, Muladhara (1:6).

Dimanche

14:45-15:00

Break

Dimanche

15:00-17:00

Practice of Nāda and Svar Yoga with Shyamji




led by Shyamji

Everything in the universe is vibrating. Nāda is our fundamental note. It will lead you to an exploration of your own vibration and aspects of your unique, authentic Self.

Learn to examine Ida and Pingala svaras based on the rhythm of the Sun and the Moon from the ancient Svar Yoga. In 1988, the scientists discovered that Pingala is connected with the left hemisphere and Ida with the right.

InnerTuning Systems of rhythms, sounds and colors will be taught. Visualize the colors to attract the light of yours benevolent chakras.

Enrich your spiritual life by learning the proper pronunciation and melodies of the healing chants leading to a deeper meditation.

Feel the bliss you are!
Testimonial from Musician
Participation
Select the full program of any day, combination of days, or the full program.
This workshop is run under the auspices of INFINY asbl and only publicized by Centre de Yoga - La Source. Payment is made to INFINY, not La Source.
There is a 5 € once-a-calendar-year INFINY membership fee even if you are only attending a single session. The 5 € membership fee is necessary for insurance purposes.
Cancellation Policy
All cancellations are subject to a 20-Euro administration fee. Payment is fully refundable (less the administration fee) if cancellation is done no later than January 19th. 50% lost if canceled by February 19th. If you cancel after February 19th, you may only be refunded if you are able to find a replacement for your place even if your cancellation is due to an illness.
S'incrire
Places disponibles dans toutes les séances
Style : Nāda Yoga
Il y a en chacun de nous quelque chose de sacré qui vibre en parfaite harmonie avec l'univers. Cependant, la cacophonie de nos pensées nous empêche de jouir de cette harmonie intérieure. Nāda Yoga nous apprend à nous élever au-dessus de ce bruit, à pénétrer plus profondément dans notre cœur et à découvrir l'inépuisable source de paix intérieure et de force qui y règne. Visitez la page : Nāda yoga.
Enseignant : Sri Shyamji Bhatnagar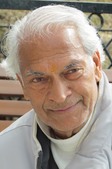 Born in India, Sri Shyamji met his Guru in the Himalayas and was initiated into the Saivite tradition of Tantra. His Guru imparted a rare oral tradition of sacred sounds (Nāda yoga), breath (Svar yoga), and spiritual wisdom. Several years later, Sri Shyamji's understanding of sound was enhanced through studying with the renowned vocalist, Pran Nath, and his disciple Jagdish Mohan. Later, he had the pleasure of playing tambura with Ravi Shankar on tour in several concerts, including Lincoln center and Carnegie Hall. In 1966, during an intensive pilgrimage, he had a vision of his own chakras. Vortices of light emanated throughout his subtle body and illuminated three channels which fed into the two hemispheres and lower portion of his brain. This vision was the beginning of a path which led to the discovery of microchakras, which are distinctive rays emanating from the chakras. Currently he has a worldwide network of students and professionals whom he teaches at various Chakra Institute locations. He is also on the faculty of the Open Center, New York's leading center of holistic learning. For over four decades thousands of students and professionals have enriched their lives through Microchakra™ Psychology and InnerTuning®. Sri Shyamji : Visitez sa page.
Lieu : Walferdange
25, rue Josy Welter, Walferdange. Ce cadre chaleureux et confortable fournit une atmosphère intime et merveilleuse pour la pratique du yoga. Facile à trouver avec un arrêt d'autobus à 100 mètres et parking à la Mairie et près du cimetière. L'entrée est à gauche de la maison. Visitez la page : Walferdange.