Introduction au Yoga Iyengar (2 hrs)
commençant le Jeudi 07 décembre 2017 à 11:00
Ce programme est enseigné en anglais.
This workshop is designed to give an insight into Iyengar yoga practice and the opportunity to get acquainted with the main groups of asanas which build the regular daily practice.
The fundamental asanas are taught in a specific sequence from simple and basic to more difficult, so each previous asana prepares the body and mind for the following one. Asanas are performed statically with repetitions that make it possible to align the body from the base, moving gradually to the top, laying a solid foundation for safe home practice or further studies with yoga teachers.
Those who are new to yoga could benefit from this workshop, because they learn the basic poses which can be adjusted according to their own condition and needs, but it could also be very helpful for yoga practitioners of other yoga styles as well as they are able to add alignment and precision to already known postures and deepen their knowledge about the body and its work in asanas.
Beginners are welcome!
Date
Time
Workshop
Sunday, Dec. 10
11:00-13:00

Forward bends and seated postures "loosen the soil"

Seated postures benefit reproductive organs and the urinary system and relieve menstrual irregularities. They alleviate pain and stiffness in the joints of the lower limbs. Practice of seated poses quiets the mind and reduces anxiety, tension, and mental stress.

Forward bends loosen the joints and lengthen the muscles of the upper and lower extremities. They make the spine elastic. Blood flow is increased in the pelvis which benefits the digestive, reproductive and eliminative organs. Forward bends soothe the nerves, reduce stress and remove mental and physical fatigue.

Twists increase lateral movement of the spine and blood supply to the region of the discs. They relieve neck and shoulder pain, tension and stiffness. Backache may also be alleviated with the practice of lateral extensions.
Cancellation Policy
All cancellations are subject to a 10-Euro administration fee. Payment is refundable (less administration fee) if cancellation is done no later than November 26th. 50% lost if canceled by December 3rd. If you cancel after December 3rd, you may only be refunded if you are able to find a replacement for your place even if your cancellation is due to an illness.
Style : Iyengar Yoga
Ce qui est unique dans Yoga Iyengar, concernant les asanas et le pranayama, est la précision et l'alignement, les séquence planifiées, le rythme et l'utilisation des accessoires. Cette approche a permis aux personnes de différents âges et de différentes conditions de santé et conditions physiques de profiter des bénéfices d'une pratique soutenue en leur donnant les moyens de rencontrer les défis physiques, mentaux et émotionnels de la vie contemporaine avec force, vitalité, mobilité, réflexion et équanimité. Visitez la page : Iyengar Yoga.
Enseignant : Beata Gerbredere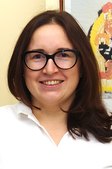 Avec 14 ans d'expérience comme enseignante de Yoga Iyengar, Beata a commencé sa pratique à l'age de 17 ans. Elle a étudié avec Faeq Biria, directeur du Centre de Yoga Iyengar à Paris. Sous sa direction, la pratique d'asana était physiquement exigeante mais avait apporté beaucoup de bonheur et de lumière. Elle a reçu sa certification Iyengar de 3 ans et 500 heures en 2003 et a donné des cours et dirigé des stages en Lettonie pour les débutants et les élèves avancés. Pour mieux comprendre la mécanique corporelle, elle a étudié la kinésithérapie. Avec les grossesses et les enfants, sa pratique personnelle est devenue plus réparatrice et elle comprend les restrictions que les autres rencontrent quand ils commencent le yoga. Elle est très heureuse de partager ses connaissances et son expérience avec des autres. Beata : Visitez sa page.
Lieu : Strassen
Avec le plancher en chêne, une ambiance chaleureuse et une vue sur un jardin avec un pâturage de mouton occasionnel, notre nouveau centre à Strassen est un havre de la vie urbaine, situé sur la route d'Arlon près de la rue de Reckenthal, seulement à 200 mètres de l'autoroute A6 / autoroute E25. Visitez la page : Strassen.