Vinyasa: letting the breath guide the practice
commençant le Samedi 21 janvier 2023 à 15:00
This workshop has had to be postponed. New date forthcoming.
Cet atelier (15h00-17h30) est enseigné en anglais.
Vinyasa method of asana practice, unique to Krishnamacharya's lineage of teaching, is known essentially as movement from one body position to the next in coordination with breath. As a bridge between our mind and our body, the role of breath as a pivotal element is emphasized in a vinyasa-based practice. The quality and ease of breath affect our nervous system and mental focus as well as our stability and ease of movement.
In this program, we will examine the rationale behind the use of ujjayi breathing in vinyasa-based practices from Krishnamacharya's lineage as well as the main principles of breath-movement coordination. We will shed light on common obstacles to sustaining desired qualities of breath and movement and discuss how these can be dealt with. We will also see how long and smooth breath is crucial in striking a balance between effort and relaxation in asana, especially in more challenging postures.
By carefully integrating these elements into an asana practice of medium length, we will observe that breath-focus establishes us in a present moment awareness. The vinyasa format then can be experienced as an invitation for our mind to tune in to and meditate on the underlying incessant play and alignment of opposing energetic/breath patterns. If sustained, this meditation starts to reveal to us the subtle inner forms of practice.
Cancellation Policy
All cancellations are subject to a 10-Euro administration fee. Payment is fully refundable (less the administration fee) if cancellation is done before January 21st. If you cancel after January 21st, you may only be refunded if you are able to find a replacement for your place.
Style : Yoga with Marija
Avec une pratique en Ashtanga vinyasa, Vinyasa krama et yoga Iyengar, tous issus de la lignée de T. Krishnamacarya, Marija organise un cours de yoga adapté à tous sur la base de son expérience de toute une vie et de ses études récentes avec AG Mohan, l'un des derniers disciples directs de Krishnamacarya. Veuillez lire sa page bio complète. Visitez la page : Yoga with Marija.
Enseignant : Marija Bjekovic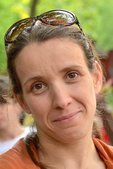 Marija's teaching path started after the completion of 200 hours Ashtanga yoga teacher training with John Scott and Lucy Crawford Scott in 2015. Over the years, she found the grounding for both her studies and teaching in the legacy of Sri T. Krishnamcharya, the father of modern yoga and a pioneer in yoga therapy. She has been studying his legacy through the lens of his two long-term students, Srivatsa Ramaswami and A.G. Mohan. She is currently completing a 300 hours Svastha Yoga Therapy Foundations program with A.G. Mohan and his family. The practice has shown her that strength, stability and flexibility are qualities to be found at other levels than purely physical. The physical form is paradoxically merely the background for contemplation of constant interplay and alignment of energies within. When she teaches in Ashtanga vinyasa context, she does so from an understanding that such a layered practice is primarily meant as a framework to start cultivating subtle breath and calm mind. The physical aspect of practice can and should be individualized, without compromising the more profound nature of the practice. She loves to encourage students to explore the practice from such a perspective, and to support them in growing a sustainable and nourishing yoga practice through different fluctuations of life. Marija : Visitez sa page.
Lieu : Strassen
147 route d'Arlon, Strassen. Avec le plancher en chêne, une ambiance chaleureuse, notre centre à Strassen est un havre de la vie urbaine, situé sur la route d'Arlon près de la rue de Reckenthal, seulement à 200 mètres de l'autoroute A6 / autoroute E25. Visitez la page : Strassen.