Ashtanga Mysore style weekday practice
starts Monday 16 march 2015 at 07:00
"It has been my privilege to share my insights into the Ashtanga practice with you these past 4 years. I am wanting to offer you an opportunity to deepen your relationship to the teachings with 5 days of Mysore class, offered in-between the two week ends I will teach. That is the place I can give you personal attention to integrate the teachings and subtleties of the Ashtanga practice." - Kathy
Participation:
Five sessions are scheduled from Monday to Friday with Kathy being present along with Jacob Handwerker, her long-time personal assistant, from 07:00 to 09:30. You can participate at any or all of the 5 sessions and start and stop at your convenience practicing for as long as you wish while she is there. Kathy will give personal attention to everyone. A reservation is needed as the room has limited space. You pay for each session at time of registration.
Cancellation Policy
Payment is fully refundable if cancellation is done no later than February 13th. 50% lost if canceled by February 27th. If you cancel after February 27th, you may only be refunded if you are able to find a replacement for your place.
Testimonials:
"I have been teaching Ashtanga Yoga for 35 years. In that time, I have taught less than a dozen people the entire four series. One of these people was Kathy Cooper. She began practicing with me in 1976. Kathy is a true yogini. Her practice and her personality are beautiful and an inspiration to everyone who meets her. She is as nice a person as you will ever meet. Whenever I am asked to recommend a yoga teacher in the San Francisco area, without hesitation, I always recommend Kathy first. She is the best." - David Williams (www.ashtangayogi.com)
"I've known Kathy Cooper for approximately 32 years. She is one of a handful of Ashtanga Yoga practioners who have learned the Advanced A and B sequences. She has maintained a consistent practice as well. Kathy is also a gifted yoga teacher who is gentle, compassionate, observant, thorough and kind in her approach to teaching. I have often recommended her to individuals and groups that I have taught Yoga to. Everyone who I have recommended Kathy to as a teacher has been very thankful to meet and work with her." - Danny Paradise (www.dannyparadise.com)
"Kathy is very qualified to teach Ashtanga Yoga. Through years of practice, Kathy has shown her love and understanding of the Ashtanga method taught by Sri K. Pattabhi Jois. She is excellent at taking beginning students safely into the practice, as well as teaching the more advanced practitioners. I have no hesitation in recommending her." - Nancy Gilgoff
"Kathy Cooper is the Grand Madam of Ashtanga Yoga." - Tim Miller
Style: Asthanga Mysore-style
This is a self-practice class where each student practices the Primary and/or Intermediate Ashtanga yoga sequence on his/her own, and the teacher passes by to give specific hands-on adjustments. As the teacher does not lead the class, each student must have a reasonable knowledge of the sequence of postures. Go to the Asthanga Mysore-style page.
Teacher: Kathy Cooper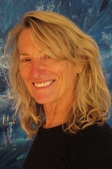 Kathy brings an informed, deep, long-time practice of 40 years to her Ashtanga teaching, supporting practitioners to strengthen their core/breath/alignment to correct and avoid injuries and move from the inside. Her style is practical and hands on. You will receive individual attention, adjustments, and insights to help you deepen your practice. Go to Kathy's page.
Location: Strassen
147 route d'Arlon, Strassen. With oak floors and a warm ambiance, our Strassen center is a haven from the hustle and bustle of city life, located on route d'Arlon near rue de Reckenthal, just 200m from the A6/E25 autoroute. Go to the Strassen page.