Introduction to Yin Yoga (2 hr)
starts Saturday 23 september 2023 at 15:00
This 2-hour program is taught in English.
Programme
15:00-17:00

This workshop is designed to promote grounding and resilience to stress, increase energy and vitality, and replenish stores of patience.

In a comfortable environment, this workshop will introduce the fundamentals of yoga practice, including breath, proper alignment, and mindfulness practices. We will learn how to move into a posture to a point where you feel challenged but not strained, which can be surprisingly difficult for many people used to our culture's emphasis on competing and being "in it to win it.".

We will also target certain emotions by embracing a meridian-based and acupressure approach. Learning not to push, or rush, or be ambitious to look a certain way, that is one of the most challenging (and therapeutic) parts of mindful Yin practice.

Poses will be presented along with possible modifications, which is best for those new to yoga. The pace of the workshop will offer an opportunity for advanced students to develop self-awareness and refine their practice.

No previous yin yoga is necessary. Everybody is welcome.
Price
The normal price is 30 Euros. Early-bird is 26 Euros before September 16th.
Cancellation policy
Payment is refundable if cancellation is done before September 16th. If you cancel after September 16th, you may only be refunded if you are able to find a replacement for your place.
Style: Yin Yoga
Yin yoga is a modern synthesis of Tao Yin and hatha yoga developed by Paul Grilley and Sarah Powers. In Yin yoga, floor postures are held for a long duration (3-5 minutes). On a physical level, it helps to increase the suppleness in the joints within our natural range of motion. While staying in the positions, we apply gentle pressure on the joints and relax the muscles around them. This way we affect the deep connective tissues and initiate the natural repair mechanism of the body. Energetically, Yin Yoga helps opening the body's meridian system. It increases our vitality and harmonizes the energetic activity of the body. Go to the Yin yoga page.
Teacher: Diana Zagorskaya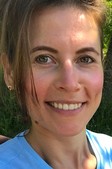 Yoga has been a part of Diana's life since the early 2000s and is what she had always been seeking. Born on the border with China, she has been highly influenced by eastern culture, medicine and the vision of physical and spiritual health. She completed her 200-hour Vinyasa & Hatha Yoga teacher training followed by her 300-hour Advanced Yoga Teacher Training in Yin, Somatic yoga, Pranayama and Mindfulness with "5 Elements International School of Yoga and Movement" in 2017. Her mission as a yoga teacher is to accompany and serve people in the journey of coming upon their true natural and individual selves in an intuitive and mindful way. Go to Diana's page.
Location: Strassen
147 route d'Arlon, Strassen. With oak floors and a warm ambiance, our Strassen center is a haven from the hustle and bustle of city life, located on route d'Arlon near rue de Reckenthal, just 200m from the A6/E25 autoroute. Go to the Strassen page.