Iyengar Restorative Yoga Class
starts Tuesday 04 august 2020 at 18:30
Take this live, in-person restorative class with Beata for one of the few dates she will be teaching at the Strassen center over the summer. Limited to 10 students. See our Coronavirus Policy page before registering.
Materials to bring
Yoga Mat
Two blocks
yoga belt
blankets or thick towels
Cancellation Policy
Before 72 hours of class time, a class credit will be given to be used before the end of the summer term. Within 72 hours of class time, no credit or refund is possible unless someone can use the place.
Style: Iyengar Restorative
This methodology comes from the lineage of BKS Iyengar. It uses props, like blankets, cushions, cork bricks and cloth or elastic bands to mitigate chronic stresses within the body and facilitate the release of deeply-held tensions. Postures are held passively and comfortably for extended periods and include simple forward bends, supported backbends and inversions, gentle twists and more. The student is better able to focus within and breathe in his/her natural rhythm. It induces a calm, restorative state of mind. Go to the Iyengar Restorative page.
Teacher: Beata Gerbredere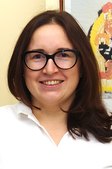 With 14 years teaching experience of Iyengar Yoga, Beata was first introduced to it at the age of 17. She studied with Faeq Biria, director of Centre de Yoga Iyengar, Paris. Asana practice under his guidance was physically challenging but brought her happiness and light. She received her 3-year 500-hour Iyengar certification in 2003 and has taught courses and led workshops in Latvia for beginners and advanced students ever since. To better understand body mechanics, she became a physical therapist. With pregnancy and kids, her personal practice has become more restorative, and she appreciates the restrictions that others face when starting yoga. She is very happy to share her knowledge and experience with others. Go to Beata's page.
Location: Strassen
147 route d'Arlon, Strassen. With oak floors and a warm ambiance, our Strassen center is a haven from the hustle and bustle of city life, located on route d'Arlon near rue de Reckenthal, just 200m from the A6/E25 autoroute. Go to the Strassen page.