Introduction to Ashtanga Yoga (2 hrs)
starts Sunday 15 september 2019 at 15:00
Program
Sunday
15:00-17:00

Intro to Ashtanga

This 2-hour program taught in English introduces students to the basics of the primary series of Ashtanga yoga and includes breathing practices and other practices integral to the Ashtanga style.

It is intended for new students and those of other styles who want to start an Ashtanga yoga practice.
Price
The normal price is 27 €. Early-bird registration by August 16th is 23 €, but your bank transfer must be made at time of registration.
SPECIAL OFFER: We will deduct 10 € from any Autumn 2019 Ashtanga term registration if you register before the Introduction or within 24 hours following the Introduction.
Cancellation policy
All cancellations are subject to a 5-Euro administration fee. Payment is refundable (less administration fee) if cancellation is done no later than September 8th. If you cancel after September 8th, you may only be refunded if you are able to find a replacement for your place even if your cancellation is due to an illness.
Style: Ashtanga Beginner
Ashtanga vinyasa is a hatha yoga practice transmitted to Pattabhi Jois from the yoga master Krishnamacharya. It is for students seeking an invigorating approach that purifies, stimulates and energizes. It consists of postures practiced in a fluid rhythm with a concentrated breath, steady gaze, and internal contractions to direct vital energy. Due to the dynamic nature of this practice, one feels completely energized and purified in each cell of the body and also in the mind. Go to the Ashtanga Beginner page.
Teacher: Marija Bjekovic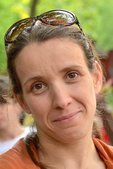 Marija first came to yoga through Bikram Yoga in Serbia in 2006 and was immediately drawn to it. Since her move to Luxembourg in 2008, she has been a regular student of Denise Pesch. The physical, emotional and mental benefits that she experienced through the inner exploration with yoga made her realise that she wanted to become a yoga teacher. She obtained her Ashtanga Vinyasa Yoga teacher diploma with John and Lucy Scott in 2015. The asana practice within the Ashtanga Vinyasa system is strong, challenging and very rewarding. The attitude of listening, allowing and accepting the intelligence of one's body-mind is crucial. She wants to encourage students to nurture this loving and caring inner attitude, as through it, their experience not only of asana but of life itself may beautifully change. Go to Marija's page.
Location: Strassen
147 route d'Arlon, Strassen. With oak floors and a warm ambiance, our Strassen center is a haven from the hustle and bustle of city life, located on route d'Arlon near rue de Reckenthal, just 200m from the A6/E25 autoroute. Go to the Strassen page.