Iyengar Program: Open Chest, Happy Heart
starts Monday 27 may 2019 at 19:00
This program is taught in English.
Date/Time
Program
Monday
19:00-21:00

Open Chest - Happy Heart

During 2-hour Iyengar yoga program, we will use standing asanas, twists and simple back-bends to explore the opening of the chest. Working towards creating space and freedom in the heart area has the direct effect on better posture, breath and circulation, thus elevating the mood and improving psychological well-being.

Beginners are welcome!
One cannot use credits to pay for this program.
Cancellation Policy
All cancellations are subject to a 5-Euro administration fee. Payment is refundable (less administration fee) if cancellation is done no later than May 23rd. If you cancel after May 23rd, you may only be refunded if you are able to find a replacement for your place even if your cancellation is due to an illness.
Style: Iyengar Yoga
What is unique about Iyengar Yoga both in respect to asana and pranayama is its emphasis on precision and alignment with the use of props to enable people of varying ages, levels of health and fitness to enjoy the benefits which a sustained practice can bring – the ability to face the physical, mental and emotional challenges of contemporary life with strength, vitality, mobility, thoughtfulness and equanimity. Go to the Iyengar Yoga page.
Teacher: Beata Gerbredere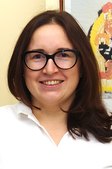 With 14 years teaching experience of Iyengar Yoga, Beata was first introduced to it at the age of 17. She studied with Faeq Biria, director of Centre de Yoga Iyengar, Paris. Asana practice under his guidance was physically challenging but brought her happiness and light. She received her 3-year 500-hour Iyengar certification in 2003 and has taught courses and led workshops in Latvia for beginners and advanced students ever since. To better understand body mechanics, she became a physical therapist. With pregnancy and kids, her personal practice has become more restorative, and she appreciates the restrictions that others face when starting yoga. She is very happy to share her knowledge and experience with others. Go to Beata's page.
Location: Strassen
147 route d'Arlon, Strassen. With oak floors and a warm ambiance, our Strassen center is a haven from the hustle and bustle of city life, located on route d'Arlon near rue de Reckenthal, just 200m from the A6/E25 autoroute. Go to the Strassen page.