Replacement class: Lower Back Yoga
starts Saturday 16 march 2019 at 14:00
This class is taught in French.
If you are a term student with credits from canceled classes this term, you may use a credit to attend this special lower back yoga replacement class on Saturday, March 16th from 14h00 to 15h30.
Style: Lower back yoga
Lower back yoga strengthens and stretches all muscles that are responsible for a healthy, vital spine in a way that minimizes stress and compression to the spine. The exercises are done in a slow, steady rhythm so that one develops a heightened awareness of all the sensations within the body. This allows one to experience the deeply relaxing benefits of yoga. Due to the gentle and focused nature of this course, it is also beneficial for those who are currently not involved in any active exercise program but wish to start. Go to the Lower back yoga page.
Teacher: Min Shen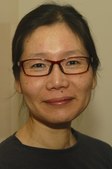 Min grew up in China with a family tradition of Tai-chi and Buddhist philosophy to life. Her grandmother, who is now 94 and still practicing Tai-chi, shaped her childhood. Blessed with material scarcity and hardships, they had the opportunity to search for meaning in the internal world. Her personal yoga practice started in 2007 in North America. In 2015, she took an RYT 200 hour-training and began teaching in Luxembourg. Shortly thereafter, she participated in a 100-hour Vinyasa Krama Advanced Teacher training with Ramaswami, one of the last living disciples of Krishnamacharya, and completed the Sivananda 200-hour certification in 2018. She also received a Sanskrit certificate from the University of Oxford extension. She continues with training, workshops and yoga classes to deepen and widen her knowledge of yoga. She is grateful to all the teachers who she met along her path, famous ones and unknown ones alike, who have taught and inspired her immensely. As a teacher, she believes in continuous self-improvement and staying true to what she teaches. She comes to her yoga mat with the understanding that all things are impermanent, and what we have is the here and now. Go to Min's page.
Location: Strassen
With oak floors and a warm ambiance with a view from the terrace of an occasional grazing sheep, our Strassen center is a haven from the hustle and bustle of city life, located on route d'Arlon near rue de Reckenthal, just 200m from the A6/E25 autoroute. Go to the Strassen page.