Hatha & Raja Yoga: The Path to Freedom
starts Saturday 07 july 2018 at 09:00
The Hathayoga-vidya is as a stairway for those who wish to attain the lofty Raja-yoga.

Hathayogapradipika Ch.1 V.1
Vinyasa Krama Yoga is a method of Hatha Yoga practice informed by the parameters of the Yoga Sutras. It is an ancient method of physical and spiritual development revived by Sri T. Krishnamacharya and imparted to his student Srivatsa Ramaswami. After 15 years of intense study with his guru, Ramaswami taught Hatha Yoga in the form of Vinyasa Krama at Kalakshetra Institute in Chennai. For nearly twenty years, he taught while under the mentorship of Krishnamacharya and continued teaching there for many years after his Master's passing.
Stephen Brandon studied Vinyasa Krama, Hatha Yoga Pradipika, the Yoga Sutras and attended a program of practice and study on integrated Hatha and Raja Yoga with Ramaswami.
Hatha and Raja yoga offer an integrated approach to Yoga practice aimed at cultivating proficiency in asana and pranayama (Hatha yoga) and meditation leading to mental peace and spiritual insight (Raja yoga).
The Hatha Yoga Pradipika of Svatmarama and the Yoga Sutras of Patanjali are two primary texts that both shed light on Yoga, as their titles indicate. They show the way to illumination or enlightenment. This enlightenment is a state of Spiritual freedom.
The workshop will comprise of guided practice sessions and study sessions. We will begin the weekend with gentle sessions to restore and focus energy. It is an opportunity to develop the skills of meditation indicated in the Yoga Sutras leading to mental peace and Spiritual freedom.
Your personal practice can be adapted to suit your capacity and personal guidance will be available from the teacher.
Just as the great oceans have but one taste, the taste of salt, so too there is but one taste fundamental to all true teachings of the way, and this is the taste of freedom.

Shakyamuni Buddha
Recommended Texts:
Day/Time
Activity

Saturday

9:00-12:30

Yoga Detoxification - practice and theory

The means to reduce and eliminate physical and mental toxins. Detoxification is the first thing addressed in HYP and YS to remove the obstacles and prepare for practice. The Yogi/Yogini who has mastered this stage is called Jitamaya, one who has conquered their enemies.

All levels welcome.

Saturday

14:15-17:30

Hatha Yoga Tools: Asana, Pranayama, Mudra, Bandha - practice and theory

The How and Why of Hatha Yoga practice. "Ha" is Prana and "Tha" is Apana, the two primary pranas, and Hatha Yoga is a method to unite these two energies. It is done through control of breathing. In asana, we learn to control the breath and condition the body. Mudra and bandha develop deeper control and purify the system to a greater degree. Then sitting for pranayama is required. Ramaswami said that his guru told him, "Hatha Yoga is Pranayama."

All these other things are done to sit and practice pranayama. The methods are integrated here. Padmasana (an asana - seat) is regarded as a Mudra in which we can do pranayama with bandha. Our mind is totally concentrated in the process.

Sunday

9:00-12:30

From Sense Experience to Internalisation: Pranayama, Pratyahara and Dharana - practice and theory

Moving the mind from its distracted external orientation to a focused inner stillness. An asana is a precise position that gives the mind the opportunity to remain without any contact to the outside world. Pranayama and Pratyahara reinforce and deepen this experience. Once firmly established in a situation where there is no stimulation from the senses, concentration can be taken up as the next step.

Sunday

14:15-16:30

Three Steps to Freedom: Dharana, Dhyanam and Samadhi - practice and theory

Patanjali calls these three components of meditation combined by the technical term Samyama, The Triad. Samyama gives us access to the next two steps of classical Yoga, Nirodha and Kaivalya (stoppage of the mental function and spiritual enlightenment).

It all proceeds in intelligent steps, vinyasa krama.
There will be a 15-20 minute break in each session at an appropriate time to suit practice and student comfort.
Participation
Please consider "whole workshop" registration or only continuous sessions starting from Saturday morning onward.
This workshop is run under the auspices of INFINY asbl and only publicized by Centre de Yoga - La Source. Payment is made to INFINY, not La Source.
There is a 5 € once-a-calendar-year INFINY membership fee even if you are only attending a single session. The 5 € membership fee is necessary for insurance purposes.
Cancellation Policy
All cancellations are subject to a 20-Euro administration fee. Payment is fully refundable (less the administration fee) if cancellation is done no later than June 6th. 50% lost if canceled by June 20th. If you cancel after June 20th, you may only be refunded if you are able to find a replacement for your place even if your cancellation is due to an illness.
Style: Vinyasa Krama Yoga
Vinyasa Krama Yoga develops strength and flexibility. It improves circulation of blood, lymph and life energy (prana). It's a simple, enjoyable and effective way of exercising all joints, muscles and tissues of the body without stressing the heart. The movements are slow and synchronised with ujjayi breathing which concentrates the mind and brings it into a state of peace. With its emphasis on synchronised breathing and moving, the system prepares the person to sit with steadiness and comfort for the more subtle practices of pranayama and meditation which are included in each class. The whole process gradually transforms the body and mind, releasing old patterns of mental tension and dysfunctional patterns of movement. Go to the Vinyasa Krama Yoga page.
Teacher: Stephen Brandon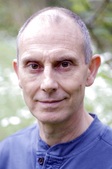 Stephen Brandon has studied Yoga under some outstanding teachers from Sri T. Krishnamacharya's lineage since 1999, including TKV Desikachar, T.K. Sribhashyam, A.G. and Indra Mohan, Srivatsa Ramaswami (Krishnamacharya's student for 34 years). Stephen trained in Viniyoga with Ranju Roy and Paul Harvey. Since 2007, Stephen has trained extensively in Vinyasa Krama Yoga and Yoga Philosophy with Srivatsa Ramaswami in India, the USA and the UK and maintains a personal practice in Yoga and Ayurveda. Go to Stephen's page.
Location: Walferdange
25, rue Josy Welter, Walferdange. This warm and cozy setting provides an intimate and wonderful atmosphere for the practice of yoga. Easy to get to, with a bus stop 100 meters away and parking in the Mairie and the cemetery. Entrance is to the left of the house. Go to the Walferdange page.