Yoga Open Class during Toussaints
starts Tuesday 29 october 2019 at 10:00
This special open class is taught in English by Barbara Motta during the Toussaints holidays. It focuses on the fine details of yoga postures and breathing, working on both your body and the mind. The class start with meditation and pranayama and warm-up postures, followed by standing and seated asanas, and a relaxing savasana to finish. You'll hold postures longer than in a flowing vinyasa class, so you can explore the technical aspects and the effects internally. Open to all levels from complete beginners to the more experienced as the teacher adapts the class according to the students.
Regular price: 20 Euros. Early-bird: 15 Euros. Credits cannot be used for "event" classes.
Cancellation Policy
Up to 48 hours before class time, we will provide you with a credit to use during our Autumn term. Within 48 hours, your participation will be lost.
Style: Open
For classes and workshops that are not limited to a particular style. Go to the page.
Teacher: Barbara Motta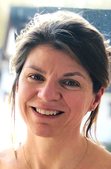 Barbara began yoga in 2004 and remembers experiencing a feeling of lightness and a new relationship to her body. She moved to London in 2009 and practiced hatha yoga and vinyasa flow at Triyoga. In 2009, she completed her teacher training at Triyoga with Anna Ashby and Joey Miles. She's a mum of two wonderful boys. In 2014, she attended Denise Pesch's pregnancy course during her second pregnancy in Luxembourg. It helped her to develop proper breathing and relaxation techniques for an easy and comfortable pregnancy and labor. In 2015, she completed Nadia Narian's pregnancy yoga training in London. She loves to create prenatal yoga classes that are welcoming and playful with a balanced attention to alignment and support and empower future mums during pregnancy, labor, the birthing process and thereafter. Yoga reminds her that everything is connected, so we live, act, and breath with awareness. Her motto: we don't do yoga, we practice yoga, always remembering that the journey is the reward. Go to Barbara's page.
Location: Strassen
147 route d'Arlon, Strassen. With oak floors and a warm ambiance, our Strassen center is a haven from the hustle and bustle of city life, located on route d'Arlon near rue de Reckenthal, just 200m from the A6/E25 autoroute. Go to the Strassen page.