Introduction to Iyengar Yoga (90 min)
starts Sunday 15 september 2019 at 09:15
This workshop is designed to give an insight into Iyengar yoga practice and the opportunity to get acquainted with the main groups of asanas which build the regular daily practice.
The fundamental asanas are taught in a specific sequence from simple and basic to more difficult, so each previous asana prepares the body and mind for the following one. Asanas are performed statically with repetitions that make it possible to align the body from the base, moving gradually to the top, laying a solid foundation for safe home practice or further studies with yoga teachers.
Those who are new to yoga could benefit, because they learn the basic poses which can be adjusted according to their own condition and needs, but it could also be very helpful for yoga practitioners of other yoga styles as well as they are able to add alignment and precision to already known postures and deepen their knowledge about the body and its work in asanas.
Beginners are welcome! After, you may integrate into our Wednesday 12:20 or Sunday 11:00 weekly Iyengar courses in Strassen.
Programme

Dimanche, 15 sep.

09:15-10:45

Standing poses lay a solid foundation

Standing poses correct carriage and improve balance creating lightness in the body and agility in the mind. They shape and strengthen the leg and arm muscles and decrease stiffness in the legs, hips, and shoulders. This category of postures alleviates back and shoulder aches. The feet become supple, the ankles are strengthened, and the chest expands fully. Practice of the standing postures invigorates the abdominal organs, increases peristaltic activity, aids elimination, and increases the blood supply to the spine. Mastery of these poses increases stamina and prepares the student for all the other categories of poses.
Cancellation Policy
All cancellations are subject to a 5-Euro administration fee. Payment is refundable (less administration fee) if cancellation is done no later than Sep 8th. If you cancel after September 8th, you may only be refunded if you are able to find a replacement for your place even if your cancellation is due to an illness.
Style: Iyengar Yoga
What is unique about Iyengar Yoga both in respect to asana and pranayama is its emphasis on precision and alignment with the use of props to enable people of varying ages, levels of health and fitness to enjoy the benefits which a sustained practice can bring – the ability to face the physical, mental and emotional challenges of contemporary life with strength, vitality, mobility, thoughtfulness and equanimity. Go to the Iyengar Yoga page.
Teacher: Beata Gerbredere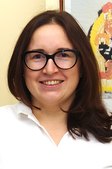 With 14 years teaching experience of Iyengar Yoga, Beata was first introduced to it at the age of 17. She studied with Faeq Biria, director of Centre de Yoga Iyengar, Paris. Asana practice under his guidance was physically challenging but brought her happiness and light. She received her 3-year 500-hour Iyengar certification in 2003 and has taught courses and led workshops in Latvia for beginners and advanced students ever since. To better understand body mechanics, she became a physical therapist. With pregnancy and kids, her personal practice has become more restorative, and she appreciates the restrictions that others face when starting yoga. She is very happy to share her knowledge and experience with others. Go to Beata's page.
Location: Strassen
147 route d'Arlon, Strassen. With oak floors and a warm ambiance, our Strassen center is a haven from the hustle and bustle of city life, located on route d'Arlon near rue de Reckenthal, just 200m from the A6/E25 autoroute. Go to the Strassen page.