Swami Kashi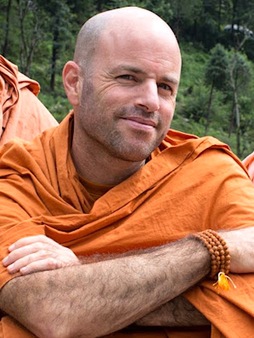 I was born in Israel in 1972 and was brought up in a very normal Israeli family. When I was 25 years old I happened to visit the Sivananda Yoga Center in Tel-Aviv and took a Yoga class. This was a turning point in my life. I started practicing Yoga very regularly, and began studying the philosophy of Yoga and the spiritual aspect of yogic life. In 1998, I took the Sivananda Teacher Training Course in the Sivananda Ashram Yoga Retreat in the Bahamas, after which yoga became the center of my life. In 1999, I decided to become a Brahmachari (monk), and I joined the Sivananda Yoga Center in Tel-Aviv as a staff. During my mantra initiation, I was named Shankar.

In the year 2000, I completed my BA degree in Computer Science and Management and moved to India. There I had the unbelievable fortune to live very closely and learn from Swami Chaitanyananda, who is a direct disciple of Swami Sivananda of Rishikesh. Swami Chaitanyananda (Swamiji) lived in the Himalayan town Uttarkashi, which is located about 165 km North of Rishikesh. For the next three years, I lived with him and learned English, Sanskrit, Hindi, and Vedanta philosophy from him. Above all, I learned from his day-to-day dealing with people and from his infinite love and compassion.
After Swamiji left his body in 2003, I returned to Israel and from there moved to the Bahamas. I could not stay for too long away from the Himalayas. I started coming back to Uttarkashi every year for a few months. Now I am spending most of my time in India and the rest of the time is spent in teaching around the world. While in India, I mostly stay in Uttarkashi and continue my studies with amazing teachers. When I am traveling in the world I teach yoga and Vedanta philosophy.

​I like to travel, teach philosophy, tell stories, and meet new people. Therefore, I have decided to combine all of these passions and (with the help of good friends) to initiate this project of bringing people to see the places and meet the people who shaped my life in an extraordinary way. I have also decided to record lectures on the Bhagavad Gita and other important scriptures of Hinduism to make them approachable to people like you. In July 2014, I was initiated into the order of Sannyasa and received a new name, Swami Kashi Muktananda Sarasvati, or in short Swami Kashi.
Swami Kashi's website
Past Events
Swami Kashi
Sat. may. 09, '20 at 10:00