Mike Erler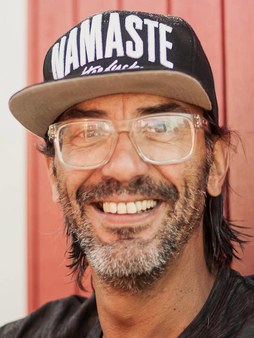 Nice that you're here! I am Mike and I have made it my business to inspire men to do yoga. In my yoga classes, on the topic of "wild guys - yoga for men", men practice among themselves and in a safe room. I combine demanding physical practice and targeted mobility training for the male body with moments of silence and self-reflection. This is how men learn that yoga serves as a tool at various levels, because yoga improves physical health and fitness, just like the ability to think outside the box, question concepts, and thereby improve his life.
Undogmatically, I follow the yoga path with passion, acceptance and dedication and would like to show men and women that yoga is the means to better understand themselves and their fellow human beings. More information about yoga for men in Hamburg, Lübeck and Germany and my focus on functional training in yoga can be found www.mikeandmore.net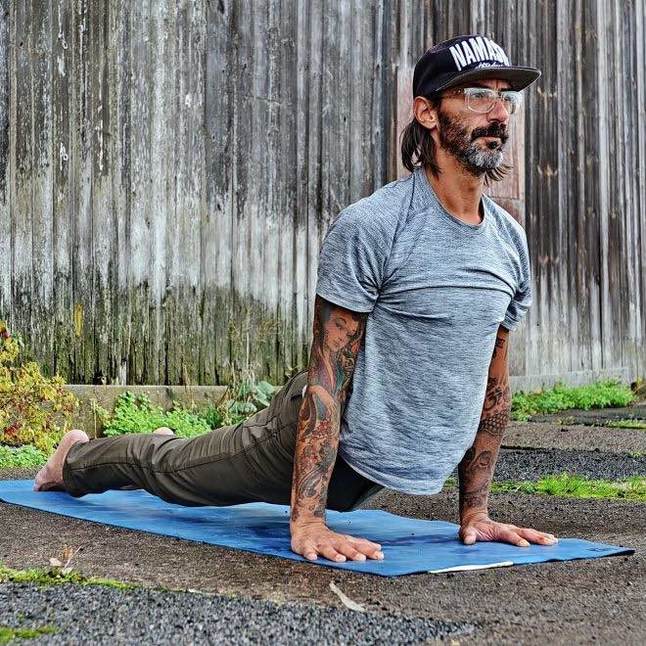 "The physical asana practice and pranayama made me feel connected to myself for the first time."
In 2006, I got to know yoga on a surfing and yoga vacation in Portugal. After the first hours of Power Yoga and Pranayama, I knew that I wanted to live and teach yoga. I was fascinated by how easy movement can be in connection with breathing and enjoyed the conscious, powerful exercises.
What fascinated me the most was the effect of pranayama, meditation and savasana on my mind. For the first time in a long time, I was connected to myself again. I felt safe and could finally get out of my personal drama.
In the holistic system, I found everything I had been looking for in many different areas: movement, silence, people, teaching, dealing with me, stability and passion.
This was followed by a classic Vinyasa yoga teacher training, numerous retreats and workshops, in which I continuously trained and advanced. Since 2008, I have made it my business to guide men to yoga and to keep them there.
I design my lessons with love and passion and always with a wink.
"With the lessons from Inspya Yoga, I give my lessons a depth that corresponds exactly to what I feel, live, think and want to express."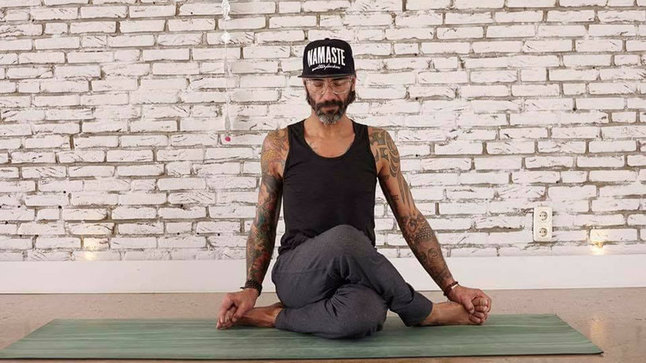 My teaching style today follows the teachings of Inspya Yoga by Lance Schuler. With his mixture of Iyengar and Ashtanga yoga, Lance has given my Asana practice a language. Here, the aspects of the two styles come together harmoniously. Flowing and static asanas (yoga postures) are combined and carried out precisely. Balance, strength, flexibility and endurance are in the foreground and are deepened through breathing exercises (pranayama). I studied Lance Schuler's method for over 850 hours and am continually expanding my yoga through numerous workshops and intensive training sessions. I am inspired by various yoga styles and teachers: Patrick Broome, Petros Haffenrichter, Mark Whitwell, Clive Sheridan, Katchie Ananda, Jean Campbell, Philipp Ernst Lemke, Claire Priestley, Maya Fienes, Lilla Wuttich, Dice Ida Klein, Young Ho Kim, Danny Paradise, Dr. Ronald Steiner, Nicole Bongartz, Patrick Beach and many more.
"When we combine asanas with new movement teaching, such as functional training, and combine it with breathing and mindfulness, we end up with yoga again."
Under the central motto "What brakes me?", elements of functional training flow into my lessons. How can we optimize the functional range of movement of the joints with yoga? Mobility training serves to increase the mobility in the joints and above the optimally possible range-of-motion and to stabilize the "mobility" that is then gained by strengthening the muscles within this range-of-motion - if necessary. Men, in particular, benefit from this in my Wilde Kerle Yoga for men, because targeted mobility training can improve freedom of movement and flexibility.
"After numerous hours of self-study and yoga practice, I pass on my own style based on physical and emotional strength, coupled with balance, flexibility and endurance."
I teach a demanding physical practice combined with unconventional lightness and passion. My students are grateful for the safe space in which everyone can find their place to immerse themselves in the process with confidence.
It is important to me to always stay a student and keep curiosity going. Asana practice is subject to constant change. I continually incorporate aspects of new and proven movement teaching into my teaching.
The spiritual teachings of yoga can always be found in my classes. Because many of the principles and insights are also valid in our world today. Yoga sets us on the path to discovering our very own spiritual world. A world of self-respect, self-knowledge, self-liberation and the purification of the self.
Regardless of whether we want to develop physically, spiritually, emotionally or intellectually - we can use our bodies to awaken our selves. The path is the goal and if we accept and accept the process of self-exploration, we will find the easier sides of our personality.
Upcoming Events
Mike Erler
starts Sat. may. 09, '20 at 10:00