Schedule for Winter 2022
January 3rd - April 10th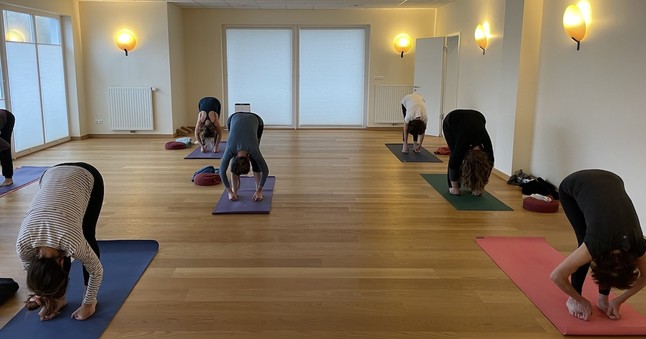 New? We'd love to speak with you. Call us at 333 419 to find the best course for you.
In-Studio Courses
We limit capacity to 9 at our Strassen classes (above). Boosted or with complete vaccination, please consider testing at home on your class day for the benefit of all during this period.

Please arrive early each week to present your Covid Certificate with QR code.

* Vaccination Certificate
* Recovery Certificate
Bring your own mats and props. Call or email to order a mat.
Streaming Classes
While listed in the table below, registration for our streaming-only classes is solely available on our "stream classes" page. Classes are posted there 4-7 days beforehand.
In-Studio Single-Class Registration within 48 hours
We are limiting single-class registration during January.
- Saturday 09:30-10:45 - Lower back yoga - Strassen 22 € - 2 places left! -
Log in
- Sunday 11:00-12:30 - Iyengar yoga - Strassen 22 € - 1 place left! -
Log in
---
Course Filter
Mondays
Time
Style
Location
Teacher
Term / Single-Class Price

09:30-
11:00

09:30-11:00

Strassen

Fredric

162€

(9 dates)

/ 22€
Details

18:30-
19:55

18:30-19:55

Strassen

Fredric

162€

(9 dates)

/ 22€
Details

20:05-
21:20

20:05-21:20

Strassen

Fredric

162€

(9 dates)

/ 22€
Details
Tuesdays
Time
Style
Location
Teacher
Term / Single-Class Price

09:45-
11:00

09:45-11:00

Streaming Lower Back Yoga

Streaming at Home

Fredric

150€

(10 dates)

/ 15€
Details

09:45-
11:00

09:45-11:00

Strassen

Rui

144€

(9 dates)

/ 20€
Details

12:15-
13:15

12:15-13:15

Strassen

Fredric

144€

(9 dates)

/ 19€
Details

18:30-
19:45

18:30-19:45

Strassen

Andrée

144€

(8 dates)

/ 22€
Details

18:45-
20:15

18:45-20:15

City: Marie-Thérèse

Danijela

162€

(9 dates)

/ 22€
Details

19:30-
21:00

19:30-21:00

Bereldange

Fredric

162€

(9 dates)

/ 22€
Details

19:50-
21:20

19:50-21:20

Strassen

Andrée

144€

(8 dates)

/ 22€
Details
Wednesdays
Time
Style
Location
Teacher
Term / Single-Class Price

12:25-
13:25

12:25-13:25

Strassen

Fredric

144€

(9 dates)

/ 19€
Details

18:30-
19:55

18:30-19:55

Strassen

Nathalie

162€

(9 dates)

/ 22€
Details

18:30-
20:00

18:30-20:00

Streaming at Home

Fredric

150€

(10 dates)

/ 15€
Details

20:00-
21:30

20:00-21:30

Strassen

Diana

162€

(9 dates)

/ 22€
Details
Thursdays
Time
Style
Location
Teacher
Term / Single-Class Price

09:30-
11:00

09:30-11:00

Streaming at Home

Fredric

135€

(9 dates)

/ 15€
Details

18:15-
19:30

18:15-19:30

Streaming Lower Back Yoga

Streaming at Home

Fredric

150€

(10 dates)

/ 15€
Details

18:30-
19:55

18:30-19:55

Strassen

Andrée

162€

(9 dates)

/ 22€
Details

19:00-
20:30

19:00-20:30

Streaming at Home

Diana

147€

(9 dates)

/ 15€
Details

20:00-
21:15

20:00-21:15

Strassen

Andrée

162€

(9 dates)

/ 22€
Details

20:00-
21:30

20:00-21:30

Bereldange

Fredric

162€

(9 dates)

/ 22€
Details
Saturdays
Time
Style
Location
Teacher
Term / Single-Class Price

09:30-
10:45

09:30-10:45

Strassen

Andrée

126€

(7 dates)

/ 22€
Details

11:00-
12:30

11:00-12:30

Strassen

Nathalie

144€

(8 dates)

/ 22€
Details
Sundays
Time
Style
Location
Teacher
Term / Single-Class Price

09:30-
10:55

09:30-10:55

Strassen

Beata

162€

(9 dates)

/ 22€
Details

10:00-
11:30

10:00-11:30

Streaming at Home

Fredric

135€

(9 dates)

/ 15€
Details

11:00-
12:30

11:00-12:30

Strassen

Beata

162€

(9 dates)

/ 22€
Details

20:00-
21:00

20:00-21:00

Streaming at Home

Fredric

165€

(11 dates)

/ 15€
Details