Ashtanga Yoga: Balancing the Pelvis
starts Sunday 17 may 2020 at 14:00
Program
Sunday
14:00-18:00

Balancing the Pelvis

This 4-hour program taught in English introduces students to the concept of balancing the pelvic tilt which is the key to finding stability (sthira) and effortlessness (sukha) in many Yoga postures (asanas). Individual anatomy and our daily ingrained patterns often shift our pelvis in a dominantly forward (anterior) or backwards (posterior) tilted pelvis. This influences not only our posture but also our breathing pattern and therefore our state of mind.

During the workshop, students will investigate their dominant pattern in a large variety of Ashtanga postures. After identifying the areas of body which are shorten and requires lengthening and the areas which are weak and requires strengthening, students will learn how to minimize the risk of injury and enhance the healing aspect of their Ashtanga practice.
Price
The price is 70 Euros. Early-bird registration until April 17th is 60 Euros, but your bank transfer must be made at time of registration.
This workshop is run under the auspices of INFINY asbl and only publicized by Centre de Yoga - La Source. Payment is made to INFINY, not La Source.
There is a 5 € once-a-calendar-year INFINY membership fee even if you are only attending a single session. The 5 € membership fee is necessary for insurance purposes.
Cancellation Policy
All cancellations are subject to a 15-Euro administration fee. Payment is refundable (less administration fee) if cancellation is done no later than April 17th. 50% refundable until April 31st. If you cancel after April 31st, you may only be refunded if you are able to find a replacement for your place even if your cancellation is due to an illness.
Style: Ashtanga Yoga
Ashtanga vinyasa is a hatha yoga practice transmitted to Pattabhi Jois from the great yoga master Krishnamacharya. It is for students seeking an invigorating approach that purifies, stimulates and energizes. It consists of postures practiced in a fluid rhythm with a concentrated breath, steady gaze, and internal contractions to direct vital energy. Due to the dynamic nature of this practice, one feels completely energized and purified in each cell of the body and also in the mind. Go to the Ashtanga yoga page.
Teacher: Etienne Janssen & Fernanda Rubim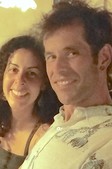 Etienne Janssen started practicing Yoga after breaking a spinal vertebra in a skydiving accident. On his first trip to India (in the year 2000). he discovered Ashtanga Vinyasa Yoga. Since then he has been practicing with some of the worlds most revered teachers with whom he completed several teacher trainings and a yoga therapy training with Dr Med Ganesh Mohan and Dr Med. Gunther Niessen. In 2014 he had the luck of meeting his current teacher, John Scott, who he annually assists at Purple Valley in India. Etienne has been teaching at his own Studio in Gmünd, Austria where he lives with his ten-year-old daughter Roza. Next to practicing Ashtanga Yoga, he is also a passionate Ultra Runner, having finished some of the toughest Ultra races in Europe. Fernanda immersed herself into yoga by attending a 200h teacher training in 2015. During the training, she became interested in Ashtanga, at first due to its demanding physical aspect, but soon discovered that the practice offered much more. Patience, grounding, balance, compassion, connection are some of the qualities that the practice nurtured and continues to nurture in her. She went on to extended study with David Swenson, Bryan Kest, Jim Harrington and others. Yoga for her means connecting wholeheartedly with our physical and spiritual body, with other human beings, with nature, with whatever life offers. It is this yoke/union that she wishes to pass on in her classes. Go to Etienne Janssen & Fernanda's page.
Location: Strassen
147 route d'Arlon, Strassen. With oak floors and a warm ambiance, our Strassen center is a haven from the hustle and bustle of city life, located on route d'Arlon near rue de Reckenthal, just 200m from the A6/E25 autoroute. Go to the Strassen page.