Yoga for Men / Yoga for All
starts Saturday 09 may 2020 at 10:00
We thank Chrëscht Cornette for inviting Mike Erler to Luxembourg for a fun weekend of yoga on Saturdays at our centers in Walferdange and Strassen and on Sunday in Esch. The programs on Saturday are in English.
For those interested in a weekly yoga for men course, please contact us.
Day/Time
Activity

Saturday

10:00-12:00

in Walferdange

Wilde Kerle - Yoga for Men

Just be a moment.

In our fast-moving times, we often reach physical and mental limits. Men, like women, are looking for moments of silence and acceptance. It is not enough just to physically exhaust yourself. In yoga, the mental and spiritual areas of life are harmonized through demanding physical practice. You will learn to dive deep into your self, to recognize patterns, to question concepts and you will find self-knowledge and clarity.

The yoga world is dominated by women. That's why my Wilde Kerle program is yoga for men. We practice among like-minded people. I offer you a safe space to physically and mentally challenge yourself outside of competition and pressure to perform. No matter whether you find yoga for physical and health reasons or just to find mental peace and balance - you are in good hands. All levels are welcome, we're all beginners here!

Wilde Kerle Yoga for men is about strength, muscles, breathing and so much more ...

We challenge the body and muscles in a gentle and powerful way. The muscles, which are often shortened, especially for men, are stretched, tendons and ligaments are strengthened and the sense of balance is trained. Powerful asanas keep the body fit and in shape, dynamic movement sequences bring smoothness to the movement.

The dynamic yoga sequences promote strength, flexibility and endurance. The focus is always on the correct alignment of the asanas. All movements are connected with full concentration on conscious, deep breathing. In addition, you will learn various breathing techniques that will help you concentrate on yourself.

You can use your body to explore your self and understand what's there. In an undogmatic, relaxed environment, with yoga I give you the opportunity to look beyond what is happening in your life. Self-awareness comes in through physical work and in moments of silence, meditation and deep relaxation you learn to accept this self. A slow transformation is initiated and your very own world of self-respect, self-knowledge and self-liberation opens up to you.

Saturday

15:00-17:00

in Strassen

Yoga for All (Men & Women)

Be present.

Serenity and enthusiasm - Discovering and connecting with the life energy (prana) can be a deep, joyful and life-changing experience. Seeing how we experience sensations that we feel in the body and mind as thoughts in our minds and as feelings in our hearts can help us a lot to understand our true nature.

Proper alignment in asana creates awareness of our body's sensations; Pranayama awakens the connection between feeling (emotion) and physical sensation (sensation). Both together pave the way for exploring the nature of mental and physical sensations during meditation practice. From this grows mindfulness, which we can use in everyday life to discover how thoughts, actions and words shape and influence our relationships with everything we encounter.

Sunday

10:00-12:00

in Esch

Mike will be in Esch. Contact Chrëscht Cornette for details - 621 229 604.
What to bring
For the morning session in Walferdange, we have yoga mats and cushions for you, but if you have your own, please bring them. For the afternoon session in Strassen, we have some yoga mats and cushions to borrow but not enough for all. If you have your own, please bring them.
Participation
Normal: 40€ for each 2h session, Early-bird: 34€ with payment required at time of registration.
This workshop is run under the auspices of INFINY asbl and only publicized by Centre de Yoga - La Source. Payment is made to INFINY, not La Source.
There is a 5 € once-a-calendar-year INFINY membership fee even if you are only attending a single session. The 5 € membership fee is necessary for insurance purposes.
Cancellation Policy
All cancellations are subject to a 20-Euro administration fee. Payment is fully refundable (less the administration fee) if cancellation is done no later than Aprl 8th. 50% lost if canceled by April 22nd. If you cancel after April 22nd, you may only be refunded if you are able to find a replacement for your place even if your cancellation is due to an illness.
Style: Hatha Yoga
Hatha Yoga involves physical postures (asanas), breathing techniques (pranayama), energy locks (bandhas), energy seals (mudras) and other practices to strengthen the physical body and to purify and balance one's energy to increase vitality, equanimity and joy of life. Go to the Hatha yoga page.
Teacher: Mike Erler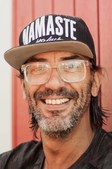 Mike's teaching style today follows the teachings of Inspya Yoga by Lance Schuler. With his mixture of Iyengar and Ashtanga yoga, Lance has given Mike's Asana practice a language. Here, the aspects of the two styles come together harmoniously. Flowing and static asanas (yoga postures) are combined and carried out precisely. Balance, strength, flexibility and endurance are in the foreground and are deepened through breathing exercises (pranayama). Mike studied Lance Schuler's method for over 850 hours and is continually expanding his yoga through numerous workshops and intensive training sessions. Go to Mike's page.
Location: Walferdange
25, rue Josy Welter, Walferdange. This warm and cozy setting provides an intimate and wonderful atmosphere for the practice of yoga. Easy to get to, with a bus stop 100 meters away and parking in the Mairie and the cemetery. Entrance is to the left of the house. Go to the Walferdange page.