1-Day Pranayama, Bandhas & Postures
starts Sunday 24 november 2019 at 09:00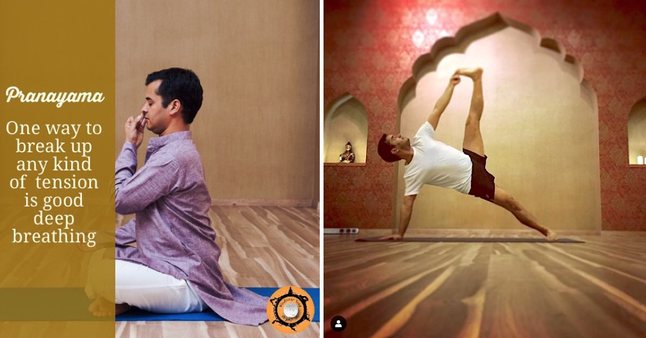 We're fortunate to have Mukesh Kothari back so soon for a one-day program after his successful first weekend workshop here a month ago. Native to Rishikesh, Mukesh invites you to take an authentic journey to discover and use yoga methods correctly: asana, pranayama, bandha, and ayurveda through theme-based workshops which create understanding and bestow wonderful benefits.
They were developed to improve your practice, master advanced postures, develop breathing skills, understand the anatomy in yoga and learn useful secrets behind training. The workshops are dedicated to all levels. Beginners welcome!
Program

Sunday

9:00-12:00

"The Force of Prana"

Join intensive 3 hours on application of bandhas and pranas in the yoga system.

This workshop will throw light on three key concepts:

Proper application of Bandhas.
Application of bandhas during asanas and pranayama.
Energy of prana stored in the chakras.

Bandhas are a unique practice in the yoga system that enhances the health of glands and their secretions. Proper use of bandhas can eliminate diseases and provides vitality. Efficient use of bandhas can help to do asanas and pranayama efficiently and effectively.

Pranayama are breathing works of yoga that are designed to help the respiratory system and boost internal vitality. 3 basic pranayama will be done along with intensive asanas.

In short, main benefits of this workshop are:

Safe asana practice
Improved control on postures
In-depth practice of breathing works
Learning and mastering bandhas
Improved concentration and de–stress

Mukesh on kapalabhati practice

Sunday

12:00-14:30

lunch

Sunday

14:30-16:30

"Hip-Opening Fundamentals and Evolution"

One-leg pigeon series is the second part of the hip opening yoga workshop in Luxembourgh, taking it to the deeper level by focussing on iliopsoas work. This is the key muscle according to yoga that controls our movement, thoughts, state of mind, and satisfaction. The workshop is suitable for all levels as we explore all variations that lead to deeper hip opening.

Since yoga came first, our lives have changed a lot, and its continuous challenges of daily life affect our hips and make them to lock up, and that's not a good thing when it comes to pain, mobility, or even our emotions.

Nearly everything we do in daily life, it leads to closing up our hip muscles: sitting at your desk, driving, watching TV, reading, physical training, and even working out.

Too much sitting either at work or at home, in particular, shortens the hip flexors and hamstrings, which limits the range of motion and contributes to lower back pain, slouching, neck pain and bad posture.

According to the tenets of yoga, tight hips can also affect our mind and emotional state. The hips are believed to be the holding place for negative emotions such as fear and sadness as they constitute a significant section of lower chakras.

The yogic solution to both problems – physical and emotional – is to move prana, or energy, through the hips.

"Hip-Opening Fundamentals and Evolution" workshop of 120 minutes to explore your physical and emotional state.
Participation
This workshop is run under the auspices of INFINY asbl and only publicized by Centre de Yoga - La Source. Payment is made to INFINY, not La Source.
There is a 5 € once-a-calendar-year INFINY membership fee even if you are only attending a single session. The 5 € membership fee is necessary for insurance purposes.
Cancellation Policy
All cancellations are subject to a 15-Euro administration fee. Payment is fully refundable (less the administration fee) if cancellation is done no later than October 31st. 50% lost if canceled by November 7th. If you cancel after November 7th, you may only be refunded if you are able to find a replacement for your place even if your cancellation is due to an illness.
Register
Place in all sessions available
Style: Hatha Yoga
Hatha Yoga involves physical postures (asanas), breathing techniques (pranayama), energy locks (bandhas), energy seals (mudras) and other practices to strengthen the physical body and to purify and balance one's energy to increase vitality, equanimity and joy of life. Go to the Hatha yoga page.
Teacher: Mukesh Kothari
Mukesh is a spiritual counselor for some and yoga guru to others. He was introduced to yoga and Ayurveda at an early age as his father is an Ayurvedic doctor in his native Rishikesh. He started learning yoga concepts at an early age under the guidance of Swami Hanumant Giri and continued his education for 14 years at the school of Honorable Swami Omkarananada Saraswati. He has been teaching yoga since 2003 after finishing his formal education in Yoga and Ayurveda. His teaching of Hatha yoga is inspired by modern styles such as Ashtanga Vinyasa, Vinyasa, and self-created Bindusar yoga system. His teachings also include the study of classical texts like Patanjali Yoga Sutra, Hatha yoga texts such as Hatha yogapradipika, Gherand Samhita, Hatha ratnavali, where the complete approach of asanas, pranayama, meditation, and Vedanta emerges. He is actively teaching in Budapest, Vienna, Prague, Moscow, Bratislava, London, Sardinia, Cluj, and Bucharest. He has trained over 600 Yoga teachers on the European continent since 2012. Go to Mukesh's page.
Location: Walferdange
25, rue Josy Welter, Walferdange. This warm and cozy setting provides an intimate and wonderful atmosphere for the practice of yoga. Easy to get to, with a bus stop 100 meters away and parking in the Mairie and the cemetery. Entrance is to the left of the house. Go to the Walferdange page.