Easter Break Extended Sivananda Yoga Class
starts Wednesday 17 april 2019 at 18:45
This class is taught in French.
Benefit from this special 2-hour Sivananda yoga class if you are around during the Easter break between our Winter and Spring terms. Beginners welcome.
Regular price: 23 Euros. Early-bird: 20 Euros. Credits may not be used for "event" classes.
Cancellation Policy
Up to 48 hours before class time, we will provide you with a credit to use during our Spring term. Within 48 hours, your participation will be lost.
Style: Sivananda Yoga
Sivananda Yoga is the style of hatha yoga practiced at Sivananda centers founded by Swami Vishnudevananda of Kerala. It is for the student seeking inner tranquility and centeredness. In a Sivananda class, we start with conscious breathing exercises to tune inward then the sun salutation, a cardio-vascular exercise, to warm up. This is followed by 12 core postures to channel and concentrate vital energy. A guided relaxation is done at the end and brings about the overall sense of harmony and well-being one feels after class. Regardless of whether a student comes into class tired or stressed, the balanced nature of the Sivananda sequence renders the student calm and lucid. Go to the Sivananda yoga page.
Teacher: Denise Pesch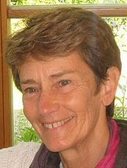 Practicing yoga since 1967 and teaching since 1984, Denise has experienced the feeling of easiness, lightness, joy and health in life and wishes to impart this wonderful experience to all her students in the varied styles of yoga that she teaches - Ashtanga, Sivananda, Vinyasa Krama, Pregnancy yoga, Yoga for the back and Hormone yoga. Go to Denise's page.
Location: Strassen
With oak floors and a warm ambiance with a view from the terrace of an occasional grazing sheep, our Strassen center is a haven from the hustle and bustle of city life, located on route d'Arlon near rue de Reckenthal, just 200m from the A6/E25 autoroute. Go to the Strassen page.