Lower Back Yoga in French
starts Saturday 08 may 2021 at 09:30
Saturday, May 8th from 9h30 to 10h45 taught in French
Materials
an elastic strap (pictured above) or a yoga belt, you could use a make-shift clothing or bathrobe belt.
a clear wall or door space
Set-up for Streaming
After registration, you will receive an email with the preparatory steps necessary to stream the class and the Meeting ID number and password.
Family members in the same house can participate under one registration.
Style: Lower back yoga
Lower back yoga strengthens and stretches all muscles that are responsible for a healthy, vital spine in a way that minimizes stress and compression to the spine. The exercises are done in a slow, steady rhythm so that one develops a heightened awareness of all the sensations within the body. This allows one to experience the deeply relaxing benefits of yoga. Due to the gentle and focused nature of this course, it is also beneficial for those who are currently not involved in any active exercise program but wish to start. Go to the Lower back yoga page.
Teacher: Andrée Lentz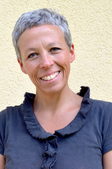 Andrée discovered yoga at the age of 18. She developed her knowledge in several yoga styles, chiefly Ashtanga yoga. The desire to share and to pass on yoga motivated her to obtain her yoga teaching diploma in 2011 from the Ecole André Van Lysebeth in Paris (in the tradition of Swami Sivananda). She currently follows a specialized training in Ayurveda Yoga at the Yoga Akademie Ayurveda à Krefeld (BDY), in the tradition Krishnamacharya /Desikachar. Go to Andrée's page.
Location: At Home
Download the zoom app at zoom.us and follow our instructions to set yourself to stream our classes at home. Go to the At Home page.