Tuesdays 19:50-21:20
Classes remaining: 0 Term Price: 0 € Single Class: 0 €
This course is taught in English.
Style: Ashtanga Beginner & Intermediate
Ashtanga vinyasa is a hatha yoga practice transmitted to Pattabhi Jois from the great yoga master Krishnamacharya. It is for students seeking an invigorating approach that purifies, stimulates and energizes. It consists of postures practiced in a fluid rhythm with a concentrated breath, steady gaze, and internal contractions to direct vital energy. Due to the dynamic nature of this practice, one feels completely energized and purified in each cell of the body and also in the mind. Go to the Ashtanga Beginner & Intermediate page.
Beginner & Intermediate:
A previous experience in yoga is recommended but beginners are welcome
Student follows the teacher's instruction but is also introduced to self-practice where the teacher spends time adjusting the student in the postures
The student progresses through the primary series of postures
See all levels
Teacher: Timi Toth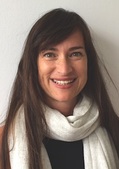 Timi came across meditation in her mid-20's and was fascinated by it. She knew that this was something she wanted to continue exploring her whole life. It soon led her to the other limbs of yoga, so she started to attend asana classes, experimenting with different styles, mainly Sivananda, Iyengar and Ashtanga. Over the years her understanding slowly deepened and her practice has become more integrated once she started with regular pranayama. In 2013, she completed a 30-hour Ashtanga Yoga Intensive Teacher Training Course with Manju Jois through Mandala Yoga Budapest and in 2016 a 300-hour Yoga Teacher Training in Hatha Yoga through La Source. During summer 2016 and winter 2017, she studied with Srivatsa Ramaswami in Europe and India and obtained the Advanced Teacher Training certificate (200 hrs). For her, yoga is a lifestyle that brings about inner freedom as well as harmony with nature and with others. She is very grateful to all the teachers she has learned from and practised with in different countries, courses and many workshops. Go to Timi's page.
Location: Strassen
With oak floors and a warm ambience with a view from the terrace of an occasional grazing sheep, our new Strassen center is a haven from the hustle and bustle of city life, located on route d'Arlon near rue de Reckenthal, just 200m from the A6/E25 autoroute. Go to the Strassen page.
What to bring
There are men and women's changing rooms at this location. Wear comfortable clothing to stretch in.
There are 10 yoga mats to borrow out of 24 possible students attending. We prioritise the mats for first-time students who don't have a mat. After the first class, please purchase and bring your own mat. We sell mats at good value.
Registration
Summer term registration is unlike other terms.
Download the summer enrollment form
, select the classes from all courses you are willing to make a paid commitment for, and email it back. We will confirm price and payment details.
Attention: the cancellation and replacement system is not available for the Summer term. All sales final.
Price:
17 € per class
10% discount for 7 classes, no matter the mix of courses
15% discount for 9 classes, no matter the mix of courses
Payment:
Please make payment to:
List of Individual Classes

| Date | Info |
| --- | --- |
| July 18, 2017 | ✓ |
| July 25, 2017 | ✓ |
| August 01, 2017 | ✓ |
| August 08, 2017 | canceled! |
| August 15, 2017 | canceled for holiday! |
| August 22, 2017 | ✓ |
| August 29, 2017 | ✓ |
| September 05, 2017 | ✓ |
| September 12, 2017 | ✓ |
Summer Term Registration Form
Price by class
17 € - 75 and 90-minute classes
19 € - 105-minute classes
log in
create an account