Thursdays 19:30-21:00
Vinyasa Yoga I
Registration
Single Class
October 7, 2021
20 €
Space available, but registration only possible 48 hours before class time.
October 7, 2021
Space available, but registration only possible 48 hours before class time.
Log In
Create Account
Calendar
10
- Upcoming classes you have canceled
• Full Vaccination Certificate
• Recovery Certificate
• Negative Test Certificate
(72h PCR, 48h Certified Antigen)
No testing at location
Bring your EU Digital Covid Certificate with QR code each week to class.
This course starts October 7th. Term registration starts October 1st.
Style
Vinyasa Yoga I
Vinyasa yoga develops sequences of yoga postures at a slow to moderate rhythm focusing on integrating mindful breathing and conscious movement as one flows directly from one posture to the next, bringing strength, vitality, steadiness, and presence. More details
Teacher
Barbara Motta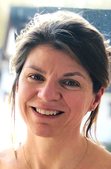 Barbara began yoga in 2004 and remembers experiencing a feeling of lightness and a new relationship to her body. She moved to London in 2009 and practiced hatha yoga and vinyasa flow at Triyoga. In 2009, she completed her teacher training at Triyoga with Anna Ashby and Joey Miles. She's a mum of two wonderful boys. In 2014, she attended Denise Pesch's pregnancy course during her second pregnancy in Luxembourg. It helped her to develop proper breathing and relaxation techniques for an easy and comfortable pregnancy and labor. In 2015, she completed Nadia Narian's pregnancy yoga training in London. Her motto: we don't do yoga, we practice yoga, always remembering that the journey is the reward. More details
Location
Bereldange
15a, am Becheler, Bereldange. With heated wood floors, high ceilings and a view of the gardens, Club Haus am Becheler's "salle polyvalente" is a quiet and idyllic place for our yoga classes. See location & map
What to bring
There is a changing room at this location but come dressed if possible in comfortable clothing to stretch in.
Please bring your own yoga or exercise mat. We have mats for purchase at 25 and 45 Euros.